Every month we have a new local artist share their work with us in the cafe at our St Werburghs store.  This month we're showcasing the work of Rebecca Donaghy during Sunday 23rd July – Saturday 26th August.
I am an artist  who lives locally in St Werburghs. Throughout my life I have drawn, painted and made sculpture. I went to in Newcastle University where I studied sculpture and won t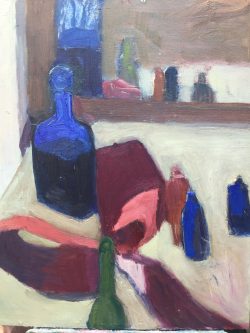 he John Bell Simpson Prize. I worked with many groups of people, and trained  as an Art Therapist and worked as a Horticultural Therapist. I have developed my skills in painting and drawing in Bristol at Queens Road and the Drawing School.
I paint still lives that have people and shadows of figures in them. Sometimes I include 'found objects' to add a mysterious quality. The 'blue vessels' are made of glass. They are symbolic. The artists Pierre Bonnard and Henri Matisse often painted the tops of dining room tables and these have been an important influence for me.. The viewpoint of the pictures are from above, like mine. The colours are from an earth palette ( yellow ochre, ultramarine, crimson, burnt sienna, lemon yellow, scarlet, green/gold )
Rebecca Donaghy – Price List
1) After Morandi drawing.    Charcoal.                                                 £350
2) Still Life Drawing. with bottles.     Charcoal                                       £250
3) Painting with feather.   Oil on board.                                                   £175
4) Two bottles of Gin.        Collage                                                         £125
5) Green Red Still Life     Oil on board                                                     £125
6) Windmill Painting.  Oil on Board.                                                        £175
7) Blue Vessel 1.   Oil on Board.                                                              £175
Please email me if you are interested in purchasing my paintings and drawings. Contact – rebecca.donaghy@icloud.com
If you'd like to exhibit in our cafe, please get in touch: hello@betterfood.co.uk