Every month we have a new local artist share their work with us in the cafe at our St Werburghs store.  This month we have Elisabet Prieto, exhibiting until Saturday 28th April.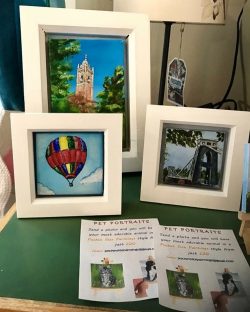 Elisabet studied a Fine Art degree in Spain. When she moved to Bristol in 2012 on her own, she fell in love with the creative culture of the city – in particular, the architecture of its buildings as well as its people.
Without the space to create or store her artwork, Elisabet stopped painting for a year. Then, after a friend of hers encouraged her to start again, she began to paint on mini canvases. Whatever happens in Elisabet's life is turned into a little painting as part of her Pocket Size Paintings collection.
Now, without the need for a large studio, she creates all artwork and commissions straight from her desk.
Website: www.pocketsizepaintings.com
If you'd like to exhibit in our cafe, please get in touch.