Every month we have a new local artist share their work with us in the cafe at our St Werburghs store.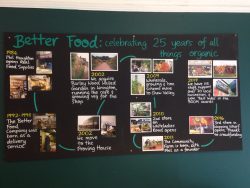 This month we're showcasing something a bit different – to celebrate our 25th birthday, our lovely in-house designer Laura has drawn our journey through the past three decades.
We can't quite believe we've been around for this long – how time flies! If you have ever visited us, or plan to in the future, then join us at our annual community feast where we will be celebrating our birthday and the launch of our community Streets to Kitchen campaign.
In the meantime, pop in to our St Werburghs cafe to take a closer look at our journey so far. If you want to see more of Laura's work, check out her website or Facebook page.
If you'd like to exhibit in our cafe, please get in touch.