Saturday 29th July
12pm-3pm
Clifton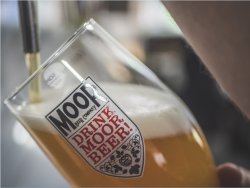 It's their slogan, and in this instance it is on the nose – Drink Moor Beer.
Join us on Saturday at our Whiteladies store for merriment and Moor Beer tastings… or should that be beer then merriment?
Based just down the road, at their Brewery behind the train station, Moor Beer have been crafting the perfect pint for 10 years. All their beer is unfined, meaning it is vegan, and they work closely with small producers to make sure the finished product tastes great, every time.