Fairtrade Cocktail and Cake Evening
Fairtrade Cocktail and Cake Evening
6:30pm-8pm
Wapping Wharf
Welcome in the end of the week with fiendish yet ethical cake and cocktail …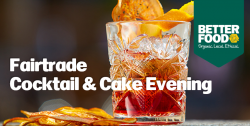 In celebration of Fairtrade Fortnight and International Women's Day, and after last year's sell-out event, you're invited to join us for a decadent Fairtrade cocktail, scrumptious Fairtrade cakes and a rare opportunity to find out more about Fairtrade from one woman who has seen its impact first-hand.
Our guests will be greeted with an Earl Grey gin cocktail and our own chocolate brownies, all made with the finest fairly traded ingredients. We'll then hear from our special guest Urania Hernández, a Nicaraguan farmer who owns a Fairtrade-certified coffee and cocoa smallholding with the opportunity to ask questions and gain a fascinating insight into the difference Fairtrade makes to the life of women in the Soppexcca Cooperative.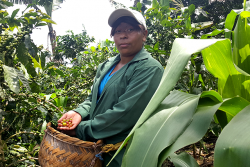 All profits raised from tickets sales will be donated to Bristol Link with Nicaragua, who annually host a Fairtrade female producer in Bristol in cooperation with Bristol & South Glos. Fairtrade Networks.
Tickets are strictly limited so book early to avoid disappointment! Over 18s only.
For tickets, visit better-food-fairtrade-cocktail-cake.eventbrite.co.uk