TUTTI A TAVOLA! A FEAST OF POLENTA ON THE TABLE: 24th Nov
24/11/2017
7pm-10pm
Wapping Wharf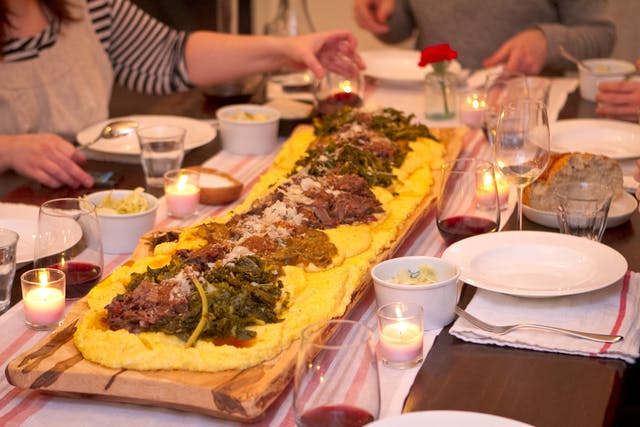 You're invited to join us at our Wapping Wharf store for an Italian celebration with a unique twist! In the rustic tradition of Abruzzo, our guests will dispense with their plates and enjoy a polenta feast shared and eaten straight from the table.
The meal will launch Better Food's new range of Italian products, delivered quite literally from field to plate by the Ferrante family who will join us on the night. The evening will showcase products made from ingredients grown on their organic certified farm, and selected by our own founder Phil on his travels to the region for their exceptional flavour, the likes of which is seldom found in the UK.
Phil and our talented chefs will be cooking up a storm in the kitchen – with the help, we're sure, of our Italian visitors – plying the table with a generous layer of hearty polenta and a rich tomato sauce, then loading the base with delicious ethically sourced meat and vegetables cooked in the traditional style of the region.
Your ticket includes your share in the polenta banquet and a glass of Italian fizz, plus all the conviviality of a true festa italiana! Tutti a tavola!
Polenta on the table traditionally includes dairy and meat and unless you're vegan or vegetarian we advise you choose this option. Vegetarian and vegan options will also be available, but will not be served from the table so as not to mix the food.