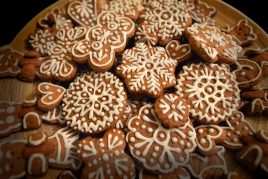 These simple biscuits are perfect to make with kids during the holidays and to use up any flour you have in your cupboard. To improve the nutritional content of this recipe consider swapping the flour for oat flour (plus some baking powder) and the sugar and golden syrup for maple syrup and coconut oil. You can even melt dates with a little bit of water and use these as a natural sweetener. Keep experimenting, and maybe try out a few ideas to see which work and which you like best. Make things more exciting by asking the kids to blind taste test the different variations and mark each one out of ten.
Ginger biscuits
Ingredients:
170g self-raising flour
70g butter/margarine
70g sugar
115g golden syrup
1 tsp ground ginger
pinch of salt
¾ tsp bicarbonate of soda
Instructions: 
Preheat oven to 160°C.
Put flour and salt in a bowl and rub in margarine until it forms fine breadcrumbs; add sugar, ginger and bi-carbonate of soda and mix together. Add golden syrup and stir all together.
Lightly grease a baking tray with butter or margarine. Make small balls with the mixture (they will spread a long way, so do not make balls too big), flatten them slightly and space them well on tray.
Bake in moderate oven, 160°C for about 15 minutes, or until they are nice and brown. Cool on wire rack.
< Back to Recipes