Every month we have a new local artist share their work with us in the cafe at our St Werburghs store.  This month we have Zara Kolasinska, exhibiting until Fri 27th Mar.
Zara Kolasinska: (Intuitive Artist)
All inquiries and works for sale by arrangement via email: followinggingerhome@yahoo.co.uk
MUSING WITH ELIXIR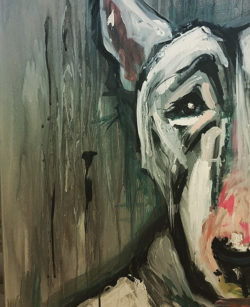 With no previous background or training in art, it's hard to consider myself an artist in the technical sense. 
Art offered itself to me unexpectedly through immense grief, loss and suffering. At this time, I had no other place to turn, apart from towards an invitation to the therapeutic embrace of art's unforeseen knowledge.
From anticipating the birth of my healthy baby daughter, on November 5th 2014, I instead, delivered the body of my daughter who was born sleeping. Mothering, nurturing and witnessing my daughter ended as the brutal reality of cradling a stillborn child defaced my dreams and visions of our future.
Nine months later, with an undeniable desire to paint, grief emerged from me and onto canvas. Here began my journey with art and the honouring of my daughter, who we named Ginger.
Entering through an exploration of shattered dreams, deepening into the essence and nature of my being, I found expression of the inner world of my emotions. This was an experiential exploring not a theoretical one! Here was a clear path to Ginger, to follow her home to one's true self.
Ginger is my art. Ginger simply is art and, in this way, Ginger will always be here.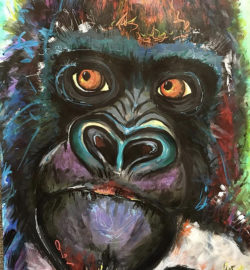 All of the subjects I paint come from intuitive feelings, visions and dreams that communicate a message, not only for my own growth and expansion, but I believe for others who have perhaps lost or forgotten their own 
My art evolves through the wisdom of teachers unknown, translated to me through a connection with the subject's essence, be it human spirit, animal or archetype. way in this world.
All artworks are offered with the original message. Please mention, upon purchasing, if you would like this to be provided. Many of my previous buyers have benefited greatly on hearing the message. Others may want the art to speak for itself to them.Most of my works are full of colour, as a testament to my love of creation, but I also hope to provoke thought as to the essential nature of duality and other themes often misunderstood and suppressed in the depth of being.
Every piece is signed with both Ginger's and my name to honour her beauty and spirit. 
                Ginger offered a rebirth in the moment she passed.
                Rebirth into a different perspective, a channel into the forgotten.
                To love this life given with all its twists and turns.
                To see the ELIXIR in nature and all of its teaching. 
 Thank you for taking the time to read this, 
Zara. 
If you'd like to exhibit in our cafe, please get in touch: hello@betterfood.co.uk.