Streets to Kitchen Campaign
---
A Better Food initiative in support of Square Food Foundation's work with St Mungo's clients in Bristol
The campaign
In our 25th year, we launched an ambitious campaign to raise £10,000, which would help people in Bristol affected by homelessness to learn new skills and build confidence, whilst empowering them to find their own route to recovery.
The money that our staff and customers raise is donated to Square Food Foundation – a charity based in Knowle West teaching people of all ages, abilities and from all walks of life to cook good food from scratch. Square Food are using the funds to run a brand new training programme in partnership with St. Mungo's Recovery College in Bristol, teaching clients of the college cookery and food service skills, reinvigorating the college's formerly-disused kitchen facilities and inspiring peer to peer learning.
Through gaining these skills in weekly sessions, clients are gaining confidence both in and out of the kitchen, developing vital life skills and improved wellbeing and are being encouraged to cook for others, potentially in a professional capacity. The hope is that this programme's impact will reach beyond just the first year's trainees, and Square Food will work closely with St. Mungo's clients, giving them the confidence to share their skills with others and ensuring that the college's wider community benefits from the programme.
Watch our campaign video here, and read our Streets to Kitchen Blog.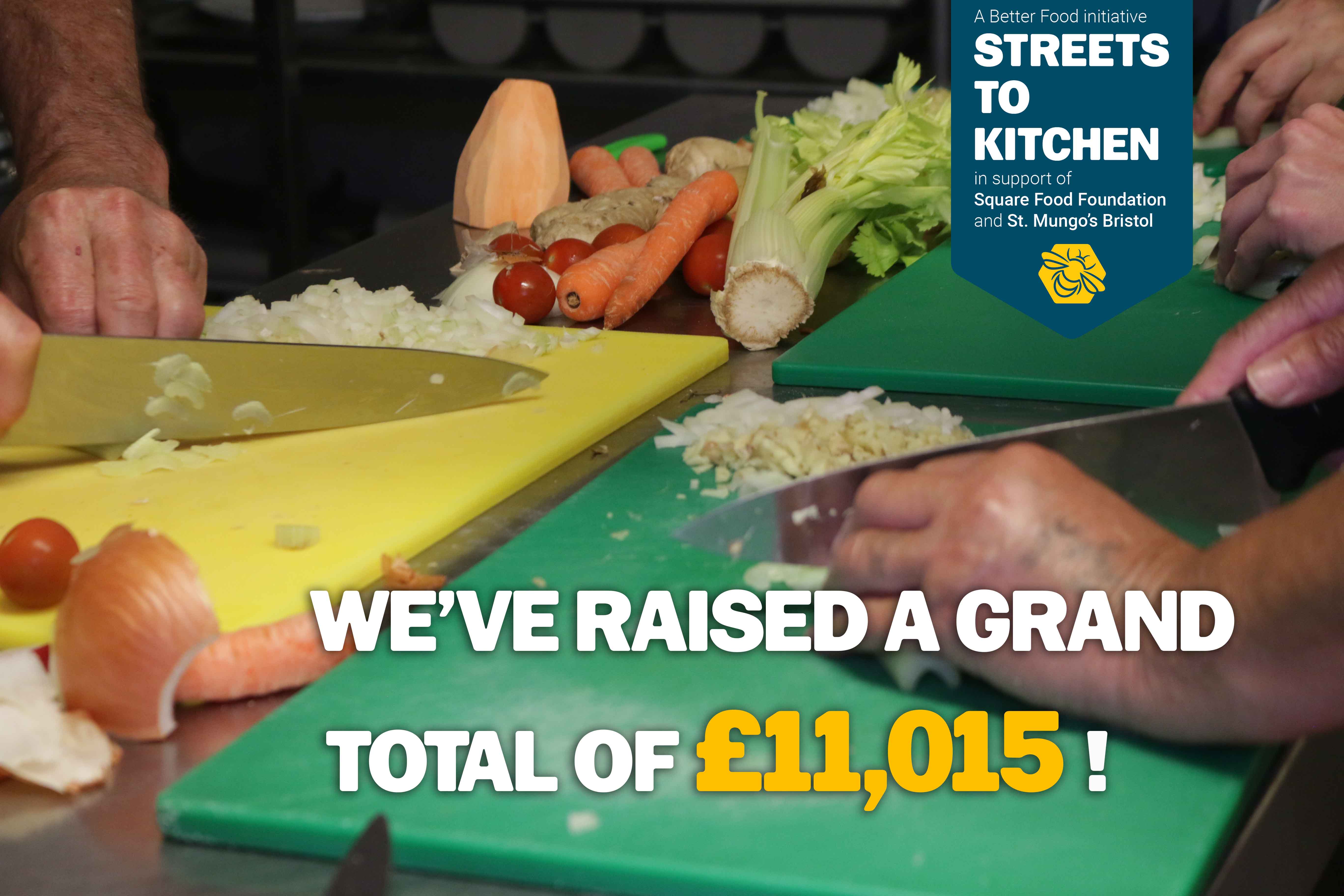 With the help of our staff, customers and friends we're delighted to say that we've surpassed our initial funding target of £10,000, but we're not stopping there… We're launching head first into another year of fundraising, to fulfil the full potential of this life-changing project, and asking our staff, our customers, and our friends to join us for the ride.
If you'd like to donate to the project, click the Fundsurfer link below. If you have your own fundraising idea for the campaign, please contact charity@betterfood.co.uk.
#StreetsToKitchen
Square Food Foundation registered charity no. 1173323