Customer Survey - Your Chance to WIN £200 in Vouchers!
We want to hear from you.
At Better Food we do our best to create an inclusive shopping experience, listening to feedback from you, our lovely customers. Take part in our survey, below, and make your voice heard!
What's more, if you take part in our survey, you'll be automatically entered into our competition with a CHANCE TO WIN £200's worth of Better Food vouchers.
Click here to take part: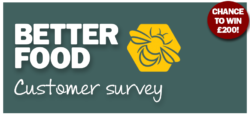 Terms and conditions apply.