1-30th September
All stores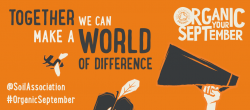 Join us for the Soil Asssociation's Organic September from the 1st – 30th. There'll be events in store, as well as competitions and guides to help spread the word about what Organic means for you and for the planet.
Following a year of unprecedented environmental protest and ground-breaking research, there's never been a better moment to shout about the role organic farming has to play in the climate change debate.
Together, we can make a world of difference.
Remember to use #OrganicSeptember and tag @SoilAssociation into your posts throughout the month.