Introducing Better Giving, our new community initiative!
At Better Food we look to balance the needs of our customers, producers, team and local community while on our journey to build a better food community. Part of this focus involves supporting our local communities and giving back. Over the past 30 years we've supported lots of wonderful local causes. Such as launching our Streets to Kitchen project, donating £11,500 to local food charities during COVID-19, donating food, space and equipment to local food banks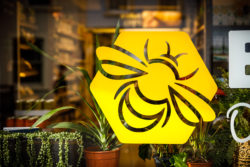 and much more.
We know that you, and our passionate teams, feel strongly about many amazing causes local to us. So, for the next phase in our efforts to give back we want to open up the decision for you to help select and then support a local cause that will directly benefit the community we serve.
Selecting the cause
Over the last few weeks, each of our store teams has nominated and then shortlisted several local causes. These are causes that our team members are particularly passionate about, with many of them already volunteering their time to support them.
Now it's your turn!
Over the next two weeks every customer will receive a coffee bean when shopping – counted as one vote – which should be popped into the coffee cup representing your favourite cause.
Look out for the voting display in-store, which will be located between the tills and the exit. Here you'll find more information about the three shortlisted causes.
The cause that receives the most votes at the end of the two weeks will be the cause that your store supports over the next year.
Store shortlists
St. Werburghs 
SARI (Stand Against Racial Inequality)
Bristol MIND
The Cycling Sisters (British Muslim Cultural Society)
Wapping Wharf
Get Your Bearings (Campus)
Coexist Community Kitchen
The Green House
Whiteladies Road 
Safe Link
Aid Box Community
Houria
How will we support them?
Each store will build their own support plan once their final cause has been selected.
Support will include financial donations, launching a fundraising campaign, sharing space and resources, volunteering and more.
Together we can make a big impact within our local communities!