Organic September Heroes: Adeys Farm

When it comes to the unsung heroes of organic, the Wilsons – proprietors of Adeys Farm – are a brilliant example of the people practising truly nature-friendly farming without much fanfare around the South West. We've been working with them for over 15 years, sourcing their exceptional organic beef, lamb and pork, reared under 20 miles from Bristol.
Tim Wilson, tenant farmer, and son Albert who is responsible for their meat processing facility (where those exceptional sausages are created), live and breathe their work. On a recent visit we took to the farm, despite driving rain, Tim gamely drove us around their vast expanse of sparsely stocked land, talking so matter-of-factly about organic farming that you might be forgiven for thinking organic is the easy choice. So second nature is this way of life, and so established the livestock and landscape, you scarcely notice the diligent attention to detail required to rear livestock without any of the short-cut interventions of conventional, modern farming. Carefully selected breeds hardy to yearlong outdoor living, cattle and sheep fed on 100% pasture diets, remarkably long weaning periods and faithful use of a small, local abattoir – sadly, these are all rarities in farming nowadays, but to visit Adeys you could almost take them for granted.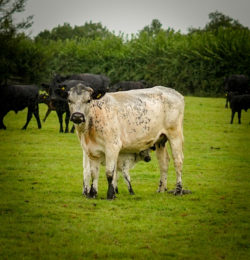 Despite being drenched right down to our socks (there's only so much wellies can do), our experience of Adeys that day showed us how farming to organic standards is all consuming for families such as the Wilsons. Tim's understanding of his animals, their needs, their personalities, showed us how in tune he is with the livestock in his care, and how this respect continues throughout their lifespan.
In past years, we were lucky enough to meet Tim's late wife – Caroline. Passionate about their way of life and farming, we still love looking back at the interview Caroline gave us shortly before she passed away. Her intimate knowledge of their animals, and deep understanding of the processes affecting their health, happiness and – ultimately – quality shines through, and is still palpable at the farm today.
So, hats off to Adeys, one of our Organic September heroes, and understated stewards of our local landscape.
In his upcoming book 'Food for Thought', our founder Phil shares his recipe for – as he coins it – 'Beef in the Bog'. A no-frills stew to bring out the best of its organic ingredients, for this recipe Phil insists on only one thing– that the beef be from cows that are pasture-fed all year round, just like those at Adeys.
Take a look at this clip of Phil talking about his relationship with Adeys and his fuss-free recipe.