What to buy at Better Food: During the festive season, you can order local, ethically reared turkeys in store or online.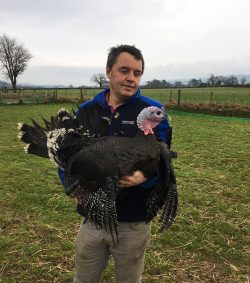 Bill and Emma Yeats of Bishop Vale farm have been farming outdoor reared poultry for more than a decade. Their traditional bronze birds from North Somerset are free to roam, roost and forage as they would naturally. Better Food's founder and owner Phil Haughton met Bill in 2012, at a time when Phil was rearing our Christmas poultry himself because he couldn't find anyone locally operating at high enough standards of animal welfare. So impressed was he by the Yeats' farm, that he asked them immediately to supply our turkeys for the festive season.
"He's a fabulous poultryman, and he specialises in turkeys" says Phil. "They're very enjoyable and quirky animals to rear, and the environment at Bishop Vale allows them plenty of opportunity to roam and feed – even to fly to the tree tops to roost."
Mission and values: Bill and Emma put all their energy into farming poultry to the higest possible standards. They prioritise animal welfare and environmental stewardship, knowing that this too will result in exceptional flavour.
Location: North Somerset
Certifications: Due to the very small scale of their farm, Bill and Emma's turkeys aren't certified organic, though they are fed organic grain and reared to organic standards.
We love them because… Our close relationship with Bill and Emma means we can see first hand the extraordinary care they take in rearing their birds. But the greatest testament to the exceptional quality of the Yeats' flock is the cohort of customers who return each year because they know and love Bishop Vale birds.
< Back to Products & Suppliers