What to buy at Better Food: We stock a wide range of flavours, many available in small bars to eat on the go or larger bars to share (or not!).
Having been deprived of the pleasure of decent chocolate for 15 years due to a number of food intolerances, Chris Crutchley—Founder and MD of Enjoy Raw Chocolate—decided to take matters into his own hands and create a chocolate that everyone can enjoy. Having perfected his recipes in the kitchen, he and wife Steph launched a range of 100% organic raw chocolate bars, free from refined sugars, dairy, gluten, soy, artificial sweeteners and added fats. All their bars are suitable for vegans, and cater for people with a wide range of allergies and intolerances, but the quality of their ingredients and punchy flavours are not to be missed by anyone.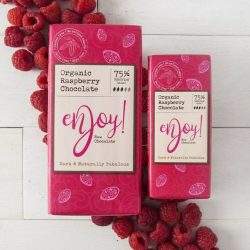 Mission and values: Whilst it's the ingredients that you won't find in their bars that make Enjoy Raw Chocolate's products something to be enjoyed by all, it's the ingredients that are in them that really stand out. Chris and Steph source 100% organic ingredients, including complexly-flavoured, single-variety 'Criollo' raw cacao beans from Peru.
Location: Andover, SP11 (52.3 miles to Better Food)
Certifications: Soil Association Organic; Vegan Society approved
We love them because… We have a massive soft spot for Enjoy Raw Chocolate, given that we were the first store anywhere in the world to sell their incredible products! Their uncompromising attention to detail in the quality of their products really stands out (they even have a 3* Michelin-trained chef cooking up new flavours), proving that when it comes to chocolate, less really is more.
< Back to Products & Suppliers