What to buy at Better Food: We're currently piloting Grow Bristol's new range of living greens.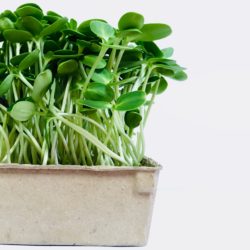 Stars of Bristol's sustainable food scene, Grow Bristol are rethinking growing for the city, producing an array of irresistible living salads and herbs. Greens are grown in an indoor vertical farm on the outskirts of Bristol, in special organic-certified, peat-free compost, without any need for pesticides. This innovative approach to growing aims to cut single-use plastics and eliminate food waste, both in the greens' production and distribution.
The greens reach our shelves in a punnet made from recycled paper and cardboard, leaving you to harvest and eat the leaves when you're ready. Once finished, the punnets can be home-composted.
Mission and values: to grow the healthiest, tastiest and most local greens for the city, all-year-round.
 Location: Winford, BS40 (5.2 miles to Better Food)
 We love them because… We love anyone who shakes things up in the name of sustainability, and Grow Bristol are leaders when it comes to in shaking up urban growing. Their living greens tick all the boxes when it comes to low-impact growing, zero-waste and all-round deliciousness.
< Back to Products & Suppliers