The Kitchen Garden Enterprise

What to buy at Better Food: Stunning seasonal cut flowers and styled bouquets, grown locally, chemical-free and no-dig, and every bunch supporting wellbeing and development in the local community
The Kitchen Garden Enterprise is part of Heart of BS13 – a social enterprise based in South Bristol, helping to improve health, wellbeing and the local environment through enterprise, volunteer opportunities, workshops and support programmes.
The small team of market gardeners, supported by local volunteers, have developed an acre of growing space and orchard in the centre of Hartcliffe and Withywood, growing seasonal flowers, herbs and vegetables, chemical-free and with a no-dig approach to rebuild and preserve soil health. Their produce also goes into meals from their sister enterprise, The Real Meal Store.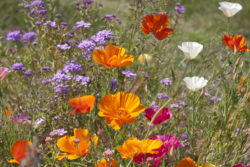 Passionate about their nature-friendly approach to growing and sustainable enterprise, the team share their knowledge and expertise with local participants, creating opportunities for vocational training, therapeutic horticulture, and environmental engagement for all ages.
Mission and values: Improving health, wellbeing and the local environment through sustainable, local, chemical-free production, and outreach programmes.
Location: Bristol, BS13 (2.4 miles to Better Food)
We love them because… The Kitchen Garden Enterprise's gorgeous bouquets would brighten any room, but with the team's commitment to seasonal, nature-friendly growing and support of health and wellbeing in the local area, these blooms really have story to tell.
Read more about The Kitchen Garden Enterprise in their supplier blog
< Back to Products & Suppliers