What to buy at Better Food: authentically made, unpasteurised tempeh, made right here in Bristol. Find it in our freezer section.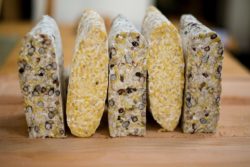 As one of the few producers of tempeh in the UK, Tempeh Meades are bringing a food once considered niche into the mainstream. Their tempeh—rich in protein, fibre, and packed full of vitamins and minerals—is produced authentically by hand, in the heart of Bristol. Learning his skills in West Java, Ben Meade, founder and tempeh maker at Tempeh Meades, produces their products by twice fermenting organic soy beans. Each fermentation stage is critical, not only for the delicious, deep flavours to be allowed to develop, but to make all the beneficial nutrients fully available.
The resulting tempeh is firm, packed with flavour, and incredibly versatile – try it steamed or fried, add it to stir fries, crumble into Bolognese, or as an alternative to meat or tofu in curries. Tempeh holds its own as an ingredient, but also carries richer flavours well. Check out Ben's recipe for marinated tempeh.
Tempeh Meades now comes in fully home-compostable packaging.
Mission and values: To bring the authentic art of tempeh making to Bristol, and introduce many more people to the delicious benefits of this fermented food that's good for you, and the planet too!
Location: Bristol, BS2 (1.3 miles to Better Food)
We love them because… Fantastic puns aside, we love Tempeh Meades because they're producing artisan-quality tempeh just a stone's throw from our doors, and bringing a product to our city that's so good it's considered a staple of the West Javan diet. We love the care they take in sourcing, and there innovative plans for making their business as sustainable as possible.
Read more about Tempeh Meades in our guest supplier blog, or give Ben's simple recipe for marinated tempeh a go.
< Back to Products & Suppliers