What to buy at Better Food: A range of locally hand-crafted gins, and gin & tonic cans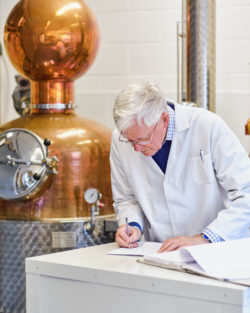 A long-held family tradition of enjoying a G&T at 6pm inspired the name of the 6 O'clock range of traditionally distilled gins. The family in question are the Kains, who more than thirty years ago began to produce and sell fruity liqueurs as a side-line at their fruit farm in Thornbury. Three decades on, and second generation distillers Michael and Felicity and their growing team, have perfected not only the original sloe gin recipe, but a whole range of 'strikingly smooth' artisan spirits.
This signature smoothness is created using their double sphere copper pot, affectionately known as Kathleen, which allows the spirit prolonged contact with the copper during distillation. From their crisp signature London Dry, to the fragrant herb-heavy Jekka's Edition, through to the bold export-strength Brunel, the exquisitely crafted range guarantees something special whenever 6 O'clock comes around.
Mission and values: Blending traditional skills and only the best natural ingredients, 6 O'clock pride themselves on the care and attention given to every bottle and their master distilling skills, which they have nurtured and developed over more than 30 years of operation.
Location: Thornbury, Bristol BS35 (9.4 miles to Better Food)
We love them because… if there's one thing better than a crisp and refreshing G&T at 6 O'clock, it's knowing that it's been expertly crafted just miles away by a team as passionate about their product as we are about drinking it!
Find out how 6 O'clock adapted their business to respond to the pandemic in their blog.
< Back to Products & Suppliers