In our cafes, we use Bristol's own Wogan coffee, made from beans grown across three organically certified farms. We use organic milk and have a variety of non-dairy milks available on request.
We enjoy catering for many different dietary requirements including wheat- and gluten-free, sugar-free, vegetarian and vegan.  If you have any special requirements please speak to a member of staff. All menu items can be boxed and taken away.
Our cafes have been recognised twice by the Soil Association's Organic Served Here awards. We were the first to gain the award in 2017, achieving this again in 2019 with 4-star status for our 75-95% organic menu. In 2023, we were awarded the Bristol Eating Better Gold Award.
We're making strides with reducing our environmental impact too. All our take away packaging is from Vegware, and we use metal straws in smoothies.
ST. WERBURGHS
Our friendly café in St. Werburghs is a regular hang-out for locals, shoppers and families (we're very child-friendly and breastfeeding mums are welcome to just sit and relax). We serve a choice of popular organic homemade salads, soups and snacks, plus lots of delicious pastries and cakes from the best local bakeries such as Bristol Loaf and Forest Bakery. We have a wide selection of teas and great coffee to enjoy inside or to have on the go. We also serve freshly-made organic juices. Made to order, they are super fresh, totally organic and completely raw.
Only take-away food will be available to purchase during the last half-hour of service.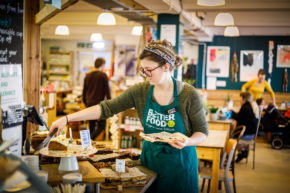 Opening Hours
Mon-Sat:

8am-6pm

Sun:

10am-4pm

Takeaway only:

30 mins before close
Whiteladies Road (Clifton)
Located on Clifton's Whiteladies Road, our deli has a great selection of tasty treats to have on the go. You'll find an array of organic, home-cooked light bites, salads, soup, fresh juices, teas and great coffee. Cakes, brownies, flapjacks and pastries are homemade or sourced from our favourite local bakeries, and there's always something gluten-free on offer. The deli is also a treasure trove for local and artisan cheese, olives, cooked meats, falafels, bhajis, marinated wonders and so much more. There are a few tables available if you'd like to sit in.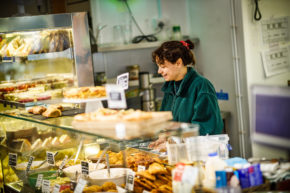 Opening Hours
Mon-Fri:

8am-6pm

Sun:

10am-5pm

Takeaway only:

30 mins before close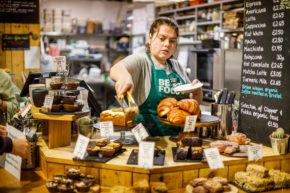 Opening Hours
Mon-Sat:

8am-6pm

Sun:

10am-5pm

Takeaway only:

30 mins before close
Gloucester Road
Located among some fantastic independent shops and eateries, our Gloucester Road café serves up delicious organic treats and salads, warming drinks and zesty juices. With a large, indoor seating space perfect for catching up with friends or studying.
Opening Hours
Mon-Sat:

8am-6pm

Sun:

10am-5pm

Takeaway only:

30 mins before close