Our cafés - 4-star Organic Served award winners, 2019
In 2017, our cafés were the first eateries in England to gain Organic Served Here awards – all at four star.
In 2019 we achieved four stars again, for the third year running, demonstrating that over 75% of ingredients used are from certified organic sources. In fact, we're nearer 93%. Those niggling last few ingredients comprise of things like some herbs, spices and hard-to-find products that are often not available organically, or are prohibitively expensive.
We use Bristol's own Wogan coffee, made from beans grown across three organically certified farms.  We use organic milk and have a variety of non-dairy milks available on request.
We enjoy catering for many different dietary requirements including wheat- and gluten-free, sugar-free, vegetarian and vegan.  If you have any special requirements please speak to a member of staff. All menu items can be boxed and taken away.
We're making strides with reducing our environmental impact too. All our take away packaging is from Vegware, and we use metal straws in smoothies.
If you buy a hot drink to take away, we encourage you to bring your own cup by giving you a 20p discount. If you use one of our Vegware cups, we charge a 10p levy which we donate to Avon Needs Trees. You also get 20p off any café item you take away in your own receptacle (rather than in one of our disposable ones).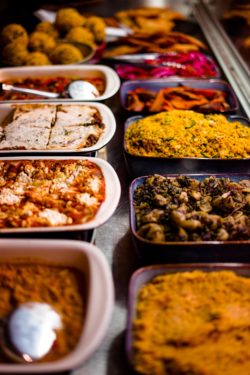 Using the best organic ingredients, Made For You offers a delicious, seasonal, café-style menu, freshly made in our 4* Organic Served Here rated café, right here in Bristol. From Courgette Kofte to Chicken Coconut curry, we've got all the bases covered when you decide to let someone else do the hard work.
Our Made For You meal deal includes a main dish plus two sides. You can enjoy it in the café, or take away for a treat at home. And, with packaging-free options available, there are no compromises when you do decide to put your feet up. Available in all three cafés.
ST. WERBURGHS
Our friendly café in St. Werburghs is a regular hang-out for locals, shoppers and families (we're very child-friendly and breastfeeding mums are welcome to just sit and relax). We serve a choice of popular organic home-cooked meals and snacks, cakes, teas and great coffee to enjoy inside or to have on the go. We also serve freshly-made organic juices. Made to order, they are super fresh, totally organic and completely raw.
Only take-away food will be available to purchase during the last half-hour of service.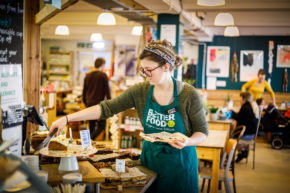 Opening Hours
Takeaway only:

30 mins before close

Mon-Fri:

8am-4pm

Sat:

8am-4pm

Sun:

10am-3pm
Whiteladies Road (Clifton)
Located on Clifton's Whiteladies Road, our deli has a great selection of tasty treats to have on the go.  You'll find an array of organic, home-cooked light bites, salads, stews & soup, fresh juices, teas and great coffee. Cakes, brownies, flapjacks and biscuits are freshly made daily, and there's always something gluten-free on offer. The deli is also a treasure trove for local and artisan cheese, olives, cooked meats, falafels, bhajis, marinated wonders and so much more.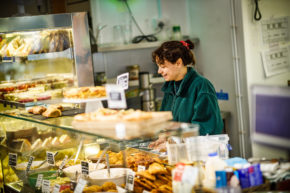 Opening Hours
Mon-Fri:

8am-4pm

Sat:

8am-4pm

Sun:

10am-3pm
Wapping Wharf
Our fantastic café in the grooviest part of town, serving an array of salads, soups, stews, light bites, sharing platters and sweet treats as well fresh organic juices, teas and coffees, to enjoy inside with lots of outdoor seating also available. We have a range of organic sandwiches and salads to go, freshly-made daily.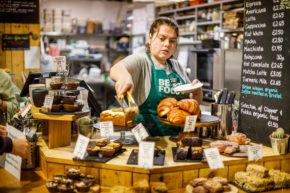 Opening Hours
Takeaway only:

30 mins before close

Mon-Sat:

8am-4pm

Sun:

10am-3pm