What to buy at Better Food: Raw, single origin British honey.
Black Bee Honey are shaking things up in British honey – showcasing some of the highest quality, most flavourful and ethically produced honey in the UK. They source honey from their own hives in Somerset and London, as well as working with a small network of beekeepers across the UK who share their approach to ethical honey production.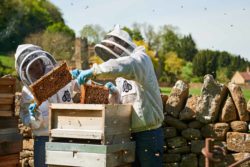 Every jar of Black Bee honey is stamped with the name of the beekeeper and the location of the apiary the honey was sourced from, as well as that particular batch's Total Activity (TA) score. This score, on a scale of 1 – 20, is an indication of the antimicrobial properties of the batch – high in Black Bee honeys thanks to their minimal processing techniques. Each batch has its own distinct flavour, influenced by the dominant flora of the local area.
All Black Bee apiaries, and those of their beekeeping network, are situated in areas with low or no pesticide use, and each keeper practises the same high standard of husbandry – using only natural remedies on their hives, and careful inspection of the hives to prevent swarming (never clipping the queen's wings).
Mission and values: To source and celebrate the very best of British honey, and make a positive impact on native pollinators.
Location: Frome, Somerset (19.6 miles to Better Food), with apiaries across the UK
We love them because… Black Bee are putting the bee back in British honey! Not only are we blown away by the distinct flavour of each of their varieties, but we've been fascinated to learn that these single origin honeys have strong antimicrobial properties that can be measured in every batch.
< Back to Products & Suppliers