What to buy at Better Food: Locally-cultivated, organic mushroom tinctures.
In five shipping containers and a large shed, Tom Baxter is doing something rather unique: organically cultivating in excess of twenty species of exotic and medicinal mushrooms, with the invaluable assistance of Henry Jephson. Following a colourful and varied career that took him from The City to foraging in Siberia, Tom was inspired to start his venture – The Bristol Fungarium – on the outskirts of Bristol following an inspirational weekend spent at Feed Bristol in Frenchay. The result is a finely-tuned complex of growing containers, carefully managed to mimic conditions that meet the varied and specific needs of each species of mushroom.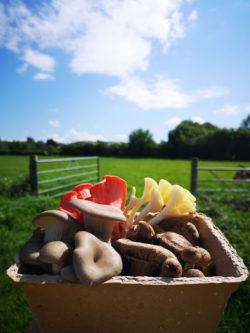 Despite the delicate and precarious processes involved, Tom and Henry still manage to crop over a tonne of the finest quality organic mushrooms every month. The result is a feast of colour, texture and taste, including maitake, shiitake, oysters, wine caps, lion's mane, reishi, turkey tail, and cordyceps.
A great deal of Tom's passion comes from the known and emerging health and wellbeing benefits of eating a varied range of well-cultivated mushrooms. A known source of protein and vitamin D, the medicinal properties of mushrooms are only now being fully explored, including their role in a healthy immune system.
Mission and values: Growing a range of the finest quality, organic mushrooms, putting immunity, wellbeing and innovative new products front and centre.
Location: Claverham, BS49 (9.6 miles to Better Food)
Certification: Organic (Soil Association)
We love them because… Just names of the mushrooms from The Bristol Fungarium are enough to pique our interest, let alone the other-worldly colours and shapes of the mushrooms themselves. Best of all though, the incredible variation in flavour has been an education for us, opening our eyes to the magical world of mushrooms beyond chestnut and portobello!
< Back to Products & Suppliers