What to buy at Better Food: From Tuesday to Saturday you'll find handcrafted loaves in our stores and divine cakes and pastries in our cafés, all baked fresh that morning.
Based in the heart of St. George, The Bristol Loaf has fast become a hub of their local community, renowned for their 'slow food' approach to baking. With a focus on traditional, small-scale production and high quality organic ingredients, The Loaf team are producing some of the most remarkable bread, cakes and pastries in Bristol, which we're delighted to have as part of our weekly bread range.
Mission and values: Gary Derham, owner, says "Our mission is to handcraft the tastiest bakes. All of our products are the highest quality and best taste, clean from pesticides and synthetic fertilisers, and fair to the people and communities producing them. We understand our responsibility for leaving a positive footprint in our community. For us, this means that the ingredients we use are sourced with the well-being of our customers and the health of our environment in mind."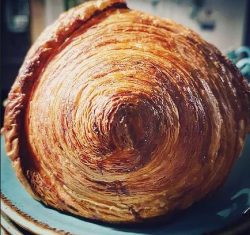 Location: St. George, BS5 (1.2 miles to Better Food)
Certifications: Soil Association Organic
We love them because…  The Bristol Loaf delivery is one of the highlights of our day! Regular favourites include chewy sourdoughs, the freshest focaccias and – available in our cafés – cinnamon buns amply big enough to share (though we won't make you). Also in our cafés, The Loaf's cakes are a feast for the eyes as well as the taste buds, and include a range of vegan options.
Coming soon: look out for an exclusive collaboration – The Bristol Loaf will be developing a new British spelt sourdough using grain from Sharpham Park. Available exclusively at Better Food mid-September 2019.
< Back to Products & Suppliers