What to buy at Better Food: You'll find a huge range of Clive's organic, vegan pastries, snacks and treats in store, including many gluten free options.
Clive's is a family-owned, organic, vegetarian bakery perched on the edge of Dartmoor in glorious Devon. They hand make a range of delicious pies, tarts and other free-from foods. Everything is organic and they take care to source their ingredients sustainably, including RSPO palm oil certified to the highest level. This – and their delicious range of flavours – has resulted in a devoted fan base amongst Better Food customers!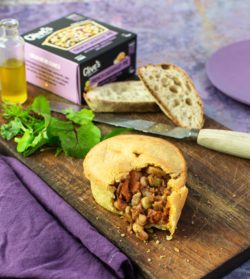 Mission and values: Clive's are committed to making naturally delicious, always organic pies full of plant based joy!
Location: Buckfastleigh, TQ11 (84.1 miles to Better Food)
Certifications: Soil Association Organic; RSPO Identity Preserved
We love them because… Clive's tick all the boxes for us – their attention to detail in sourcing their products sustainably and, where possible, locally is rivalled only by their inventive flare for flavour.
< Back to Products & Suppliers