What to buy at Better Food: You'll find a huge range of Clive's organic, vegetarian pastries, snacks and treats in store, including many gluten free and vegan options.
Clive's is a family-owned, organic, vegetarian bakery perched on the edge of Dartmoor in glorious Devon. They hand make a range of delicious pies, tarts and other free-from foods. Everything is organic and they take care to source their ingredients sustainably, including RSPO palm oil certified to the highest level. This – and their delicious range of flavours – has resulted in a devoted fan base amongst Better Food customers!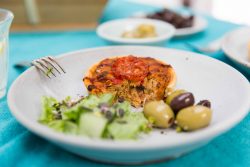 Mission and values: For Sally and Chris Carson, owners of Clive's, there's no compromise when creating their pies and other treats. They are committed to making products that are always organic, mostly vegan and often gluten free, and making everything by hand from their own bakery. While most of the range is vegan, any animal products they do use are Soil Association certified to ensure the best possible standards of animal welfare. They source locally wherever possible.
Location: Buckfastleigh, TQ11 (84.1 miles to Better Food)
Certifications: Soil Association Organic; RSPO Identity Preserved
We love them because… Clive's tick all the boxes for us – their attention to detail in sourcing their products sustainably and, where possible, locally is rivalled only by their inventive flare for flavour.
< Back to Products & Suppliers