What to buy at Better Food: Locally grown, organic, seasonal orchard fruits
Our founder, Phil, has been working with fruit farmers, the Pardoes, since they first converted Priors Grove to organic production in the early 80s. As Phil's own business evolved to become Better Food, there was no question that he would be bringing the Pardoes and their exceptional organic produce on his journey with him.
Today the farm is headed up by Joe – the fourth generation of his family to run the farm in Herefordshire. Under his watchful eye, the farm has diversified from an all-apple crop, to include pears, plums and—when we're really lucky—cherries, too. Conscious of the need to offer something different from the mainstream, Joe looks for niche varieties to sit alongside familiar favourites.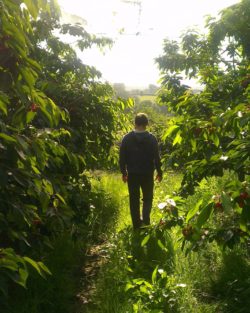 Grown and picked by hand, the fruit from Priors Grove is proof that working with nature, not against it, can reap abundant rewards, year on year.
Mission and values: More than just carrying on the work of his father before him in committing to notoriously difficult organic fruit production, Joe seeks to innovate and experiment, making the very best of his corner of Herefordshire and producing some of the finest organic produce available anywhere in the country.
Location: Putley, Herefordshire (39.2 miles to Better Food)
Certifications: Organic certified (Soil Association)
We love them because… Our long history with the Pardoes is no accident; Joe's values, and those of his father Ian before him, have been in tune with our own for decades. Farming in a way that puts nature and people first, the Pardoes have shown that far from detracting from quality and flavour, their produce is only made better for the care that goes into growing it. Which is why we can hardly wait each year as English fruit season approaches!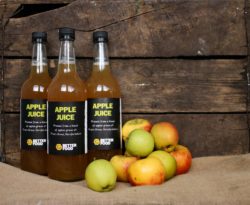 Apple Juice
When apple season is over, you can still enjoy the incredible flavour of Priors Grove apples – we've bottled it!
We work with Barley Wood Orchard, who press apple juice in the roundhouse at the bottom of their garden using traditional rack and cloth manual presses. Our apple juice is made from nothing other than Joe Pardoe's organic apples, and it's delicious!
< Back to Products & Suppliers