What to buy at Better Food: A modern twist on the world's oldest tipple – sparkling and classic mead.
Started by two brothers Kit and Matt, The Wye Valley Meadery is a small family-run company based in Chepstow, set on the banks of the beautiful Wye Valley on the Welsh borders. They have given the world's oldest drink a modern twist by brewing to a lower alcohol level, and bottle conditioning to give it a natural sparkle. The brothers look after 150 beehives spread around the Wye Valley, and use the majority of the honey produced to make their mead. They have created a range of six sparkling meads including Citra Hop infused, Rhubarb, Ginger, Elderflower, as well as a 14.5% traditional.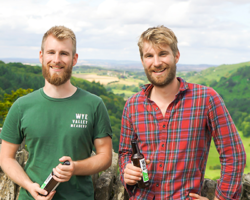 Mission and values: Supporting honeybees and boosting biodiversity is at the heart of everything Wye Valley Meadery do. They teach bee-keeping at local schools and encourage people to take up, or learn about beekeeping as it gives them an instant connection and compassion for their surrounding environment.
Location: Chepstow, Wales, NP16 (12.2 miles to Better Food)
We love them because… Kit and Matt's love of nature, passion for brewing, and keen eye for design have collided to make one of the most exciting 'new old' products to hit our shelves. Combine this with a deep knowledge and respect for the bees behind the mead, and we think that Wye Valley Meadery are set to revolutionise the image of this ancient beverage.
< Back to Products & Suppliers