What to buy at Better Food: Hobbs House Bakery deliver fresh bread to our stores 6 days a week. There's something for everyone, from crusty baguettes to slow fermented sourdoughs, flavour packed ciabatta and the coeliac-friendly GiFt Loaf.
Now raising their sixth generation of bakers, Hobbs House Bakery have been handmaking bread from scratch for nearly a century. Starting life in the Cotswolds under their family name of Herbert, their first Bristol bakery opened in the 1950s, before finally settling in their current home of Chipping Sodbury under the name of Hobbs House in the 1980s.
For over thirty years, Hobbs House have been making organic bread, using flours milled just a few miles away from their bakery at Shipton Mill. Their delicious, slow-proved sourdoughs are raised from a starter they acquired at this time too – a gift from a German baker who had been cultivating it since 1955. The Hobbs House sourdough starter recently celebrated its 60th birthday!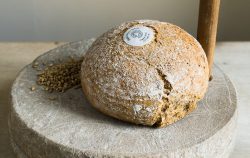 Mission and values:  Hobbs House have been working with us since we first opened our doors over 25 years ago to help fulfil their mission to make real, handmade bread a staple in Bristol households once again. They make their bread as simply as possible, ideally using as few as three ingredients, and have a strong focus on both traditional and innovative organic recipes.
From beginning to end, they have a keen eye on their supply chain: a robust local sourcing policy means all ingredients are sourced from suppliers within a 25-mile radius of Bristol, whilst several measures ensure surplus bread finds a good home, and waste and plastic use are kept to a minimum.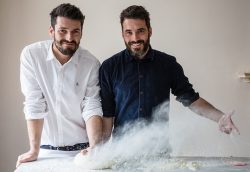 Location: Chipping Sodbury, BS37 (9.4 miles to Better Food)
Certifications: Soil Association organic – check individual products for the Soil Association logo.
We love them because… Hobbs House have been with us from the very beginning and share our vision of making food made with care for people and planet the norm. There's no escaping the passion for dough that drives the family – our visits to their bakery are notable for their in-depth bread discussions, and extensive tasting sessions!
< Back to Products & Suppliers