What to buy at Be
tter Food: Unique, homemade organic nut butters – free from peanut, gluten, wheat, refined sugars or added fats, and all made by our very own Mike Duckworth (pictured right).
Drawing inspiration from a food-fuelled trip to Australia and as a long-time member of Better Food's Whiteladies Road team, Nutcessity founder Mike saw an opportunity to develop an innovative vegan product for Bristol. The result is a range of nut butters with nutrition, ethics and creative flavours in mind. From Salted Date & Walnut and Maca, Carob & Cashew, to Roasted Walnut Espresso and (current office favourite) Gingerbread & Almond—we're proud to have been the first stockists of products from this rising star.
Mission and values: As a vegan working in the heart of the organic retail movement, it was important for Mike that his products ticked all the boxes for people looking for snacks that leave their health and their conscience in good shape! As well as sourcing all of his nuts and seeds from organic supply chains, you'll find added flavours such as Fairtrade Sumatran coffee roasted right here in Bristol by Wogan Coffee. Mike pays just as much attention to the ingredients that don't go into his products – you'll find no dairy, gluten or soy, refined sugars or added fats (and there's not a peanut in sight since our Mike is allergic to them). High in fibre and heart-healthy fats, and a source of protein, this is guilt-free snacking at its best.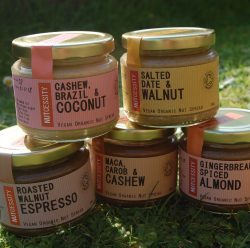 Location: Warwick, CV34 (70 miles to Better Food – though he brings his products to work with him!)
Certifications: Soil Association Organic
We love them because… There's nothing we like to see more than our own colleagues branching out into the world of organic food, and we can't think of a tastier, more nutritious way to do it than Mike's delicious nut butters!
Read more about the founding of Nutcessity
< Back to Products & Suppliers