In a nutshell: the rise of start-up Nutcessity

As a former Better Foodie, we've been keeping a close eye on the rise and rise of Mike Duckworth's own foodie venture. Created in 2016, Mike makes organic coconut-based alternatives to peanut butter under his brand Nutcessity, using wholesome vegan ingredients to create a range of out-of-the-ordinary flavours. Making their debut on the shelves of Better Food in 2017, Mike's jars are now found in over 50 UK stores.
It's been a rewarding, confusing, tiring, interesting and sometimes tough path to where I am now. When I first spoke to the buyer of Better Food, my then-colleague, in early 2016 about how I could make better nut butter than what was on the shelf, it all sounded so straight forward! I was determined to go organic—my time at Better Food taught me about the benefits of organic systems, such as soil regeneration and cutting out harmful pesticides, especially endosulfan [a highly toxic pesticide formerly used in non-organic cashew production, and still believed to be in use despite a global ban].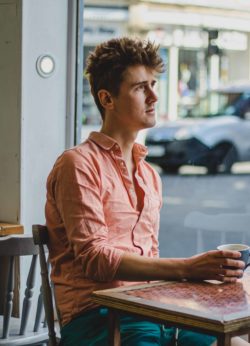 To start with, I created a range of butters using cashews, brazil nuts and coconut – but when the price of brazil nuts shot through the roof, I learnt my lesson and started diversifying! Now, after much tweaking and agonising, I have three core nut butters: Gingerbread Almond (warm and festive), Date & Walnut (salty and sweet) and Carob Cashew (earthy and malty). Right now, I make around 400 jars a week over 30 hours at my parent's home in Warwick, assisted by the sounds of Lauren Laverne and Scott Mills in the background. When the business began to take off, my parents converted their back room into a new kitchen, and we bring pallets of jars through the garage. I still consider myself 'Bristol based' though, living here 4 nights a week.
For about three years I worked at the Whiteladies Road branch of Better Food whilst working on my plans for Nutcessity. I was always a bit geeky when it came to evaluating new product samples – fascinated by packaging, taste, texture, colour, even margins! These days it's the other way around; I'm focussing on how to build Nutcessity and give the best impression to retail buyers UK-wide.
However much I've enjoyed the early stages of Nutcessity, I've made the decision to grow my business by using a contract manufacturer (a third-party who will make each jar on my behalf). This means I can concentrate on selling, negotiating and travelling, amongst a million other things that go with running your own business.
The future is daunting but exciting. To work towards receiving a decent income, I need to sell lots of nut butter. Lots. But with the help of Better Food, I've perfected a range that my customers come back for time and again. Now it's time to meet more people in London, Truro, Edinburgh and beyond, and spread the word. When I find that my nut butter is solving a problem for someone—be it looking for a product with no added sugar, or even just a jar that's easy to reach the bottom of!—at the right price, then I'm doing my job.
The mission I had for Nutcessity in 2016 remains the same today: to sell wholesome nut spreads that are less cloying than peanut butter and more exciting flavour-wise. All my recipes contain no refined sugar and no added oil. Soon, you might see some updated Nutcessity packaging in the shop. While those spreads will no longer be home-made, they'll be plastic-free, organic (as ever), and packed with flavour. I hope you'll give them a go yourself.
Read more about Nutcessity in our supplier pages.