Barny's seasonal omelette recipe!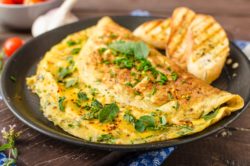 Eggs are a wonderful, versatile food. It's little wonder they feature in so many of our favourite dishes. Yet, the humble egg is often taken for granted. In our founder Phil Haughton's book, Food for Thought, his brother Barny's omelette recipe gives the humble egg the celebration it deserves. Download the recipe and see how easy it is to make!
Early last year, Phil and his brother Barny met to discuss the importance of eggs and why we should value them more highly. You can watch their conversation below, where Barny demonstrates how he makes his delicious omelette recipe.
You can also buy Phil's book for more delicious recipes like this one here!
Food for Thought – Barny Haughton's simple omelette