Organic Heroes: Herbfarmacy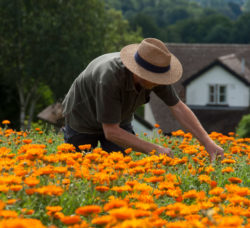 Herbfarmacy: Traditional herbal preparations, handcrafted in small batches on a Herefordshire herb farm. By Hannah Forsbrook
For nearly 40 years, Paul Richards has been growing organic herbs on his Herefordshire farm. Paul and our team have taken his years of experience and knowledge to develop a range of skincare products and tinctures that are ethically made and great for your skin. We undertake the whole process on the farm: pick the herbs, create, bottle and label the products, all in small batches.
'The beauty of growing our own herbs is that we know that they are grown well, and harvested in their prime for use either fresh for tinctures or dried for extraction in oil or water to make our healing balms and the rest of the skincare range.' Paul Richards
We grow over 20 herbs on five acres of fields, including Marshmallow, Echinacea, Calendula, Mullein, Cornflower, Meadowsweet and Hypericum. The process of growing is started by sowing the herbs by hand, using seeds collected from the previous year's crop. Carefully tended by hand-hoeing between each one, the seedlings soon grow into strong, healthy plants. The fields are vibrant with colour and filled with butterflies and bees! In the glorious, long summer days from June to September, a small team hand-pick several hundred kilos of herbs and flowers. They pick by hand to help preserve delicate petals and to protect and respect the integrity of each plant.
The flowers and herbs are gently dried, then steeped in oil to lock -in the very best herbal benefits. Using our own unique recipes (we even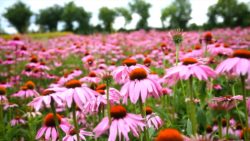 make our own base cream!), we take small batches and gently blend the herbal oils with other carefully sourced ingredients, before filling the recyclable aluminium (not plastic!) bottles and jars by hand. Purity is key. It takes time and is a labour of love but each of Herbfarmacy's hand crafted balms, oils and creams is unique.
Making products the right way is important to us, and the environment is at the heart of what we do. That's why we are proud to be certified an Ethical Company by the Good Shopping Guide and a Living Wage employer. Our pro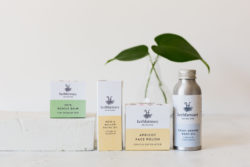 ducts are certified organic with Soil Association, and Cruelty Free with PETA. Many of our products are registered with the Vegan Society, and we avoid plastic in our packaging. Our aluminium containers are BPA free; sleeves are made of FSC card and we use rubber not plastic-based glues and vegetable, and no acrylic ink for printing. You also won't find any parabens, SLS, artificial fragrances or petroleum in our products.
When you use a Herbfarmacy product you share in our philosophy: that the very best herbs and ingredients are used, that plants and wildlife have been treated with respect, and that the products you use are individually made with care. We believe that Herbfarmacy is skincare as it should be!