Tabitha Eve: fighting single-use in style

Tabitha Eve is a British brand focussed on sustainable, eco-friendly products – for your skin care regime right through to your kitchen sponges. This brand is really one to watch – stylish products that you can feel great about, helping you to reduce your waste and do your bit for the planet! Here, Debbie – the company's founder, tells us about Tabitha Eve's top eco credentials.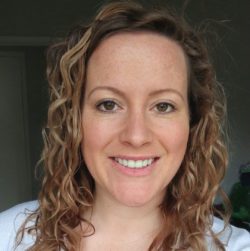 I began making reusable washing up sponges, wipes and wax wraps at home back in 2017. When they became super popular with friends and family, I decided to start selling them online…and so Tabitha Eve was born!
Our mission is to provide eco-friendly alternatives to single-use household items, or everyday products that might otherwise be made of plastic. Our ultimate goal is to make it the norm for everyone to buy reusable. We have a gorgeous selection of earth-friendly items for kitchen, bathroom and baby, not to mention some beautiful gift ideas!
Most of our products are made of either cotton or bamboo, and the aim is to ensure that each of the fabrics used is ethically sourced and manufactured. As well this, we only use fabrics that are organic or, if not certified, organically grown wherever possible. The products are designed to minimise waste; we even use the recycled scraps from our Make Up Rounds as stuffing for our Bath None Sponges and Body Buffs.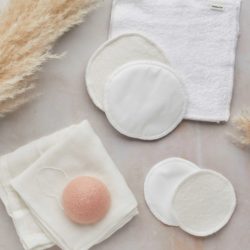 We also think really carefully about our packaging, making sure that it's all entirely plastic-free and compostable. Even before it reaches the shelves, orders are always shipped in recyclable and compostable packaging, sealed with recyclable paper tape and, where possible, we use recycled boxes, too.
We hand-sew the vast majority of our products in our lovely studio in Pontypridd. South Wales has a plethora of talented sewers, following the mass exodus of fashion and textile brands in recent years to cheaper manufacturing hubs abroad. We're hoping to re-establish South Wales as the place to be for the ethical textile industry. We employ a wonderfully diverse team of local creatives, all of whom are paid at least the national living wage and have the opportunity to share in the profit of the business each year.
I'm determined that we have a wider positive impact, too, and we support various charities through the sale of our products. For instance, just recently we launched a range of special edition, PRIDE themed make up rounds, and we donate a portion of every sale to a charity supporting the LGBTQ+ community. Throughout the coronavirus outbreak, we've produced washable, reusable face coverings, donating to NHS and Key Worker causes through the sale of our masks.
At Tabitha Eve, we love an uplifting quote (you'll find lots of them on their social media platforms!) and my absolute favourite is "If you think you are too small to make a difference, try sleeping in a room with a mosquito!". I'm proud that the business has grown, but our values stay the same, and our team continues to do its best to provide products that are good for both our customers and the planet!
Read more about Tabitha Eve in the supplier directory