100 years in focus. This month, we're looking at our wonderful Health and Bodycare suppliers Weleda and their rich history creating sustainable, natural cosmetics and more.
WELEDA: 100 years of connecting people with nature. By Laura Crossland
After a century of pioneering groundwork, creating now widely embraced ethical and sustainable practices in the production of natural cosmetics and medicines, Weleda is celebrating its 100th year.
First founded in 1921 in Switzerland, Weleda is a company with a unique ethos. Our story began in a Swiss hospital, a pharmaceutical laboratory and a medicinal plant garden. The pioneering holistic physician Dr Ita Wegman, inspired by philosopher Rudolf Steiner and working with like-minded chemist Oskar Schmiedel, set about developing her first formulations using only natural ingredients.
Steiner's approach remains at the heart of what we do and provides a strong sense of identity and direction. From our biodynamic herb gardens to our UEBT-certified respectful supply chains, sustainability and respect for people and nature are an intrinsic part of our heritage and future. 100 years ago, Weleda began adopting biodynamic farming methods, and setting standards for ethical business practices. Today Weleda farms eight medicinal plant gardens internationally, managing 248 square km of organic land, as well as nurturing over 50 long-term fair trade farming partnerships.
The British Weleda Company soon followed in 1925, initially a pharmacy in London's Bloomsbury, but expanding during the second world war when the company evacuated to the Midlands, where the medicinal herb farm flourished. Now based in Derbyshire, we continue to manage 13 acres of Demeter-certified herb gardens, using biodynamic methods to ensure the purity and quality of our ingredients and the tinctures that are the start point for our many products.
Today our range includes more than 120 natural and organic cosmetics – all NATRUE-certified authentically natural. The NATRUE seal guarantees that products are free from petrochemical ingredients, silicones, mineral oils, microplastics, GMO ingredients, synthetic fragrances or artificial preservative such as parabens. The standard also sets requirements for the biodegradability of certain ingredients, and stipulates any palm oil used is sustainable, and there is a global ban on the use of the NATRUE seal on products where animal testing is required.
Weleda is one of just two beauty brands worldwide to obtain the UEBT certification for sourcing with respect, verifying our 1,200+ supply chains. The Union for Ethical Bio Trade is a non-profit organisation that provides a globally recognised standard for sustainable sourcing and the use of raw materials. The UEBT looks at its entire sourcing system to verify that biodiversity is conserved, ingredients are sourced sustainably, and that all partners along the supply chain are treated equitably and paid fairly.
Weleda remains owned by the original not-for-profit organisations of our founders Dr Ita Wegman and Rudolf Steiner. We still produce many of our lines to tried and tested formulations which go right back to the founding of the company a century ago – such as our Arnica Massage Oil, Weleda Skin Food, Ratanhia Mouthwash and toothpaste, Rosemary Bath Milk and Revitalising Hair Tonic – all these are true classics from the 1920s. Our original mission statement, 'working in harmony with nature', still appears on packs today.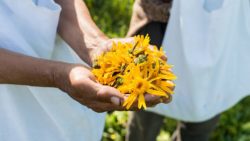 But we are also very much looking to the future: our B Corp certification will be achieved before the end of 2021 and we are currently focused on our 2022 climate neutral objective. We are also joining the 1% For the Planet responsible business initiative next year, giving back 1% of sales to environmental causes, to create a healthier planet. To mark the milestone of Weleda's 1921-2021 Centenary this year in a way that looks to the future, we recently pledged to plant a forest of 1 million trees, teaming up with UK charity TreeSisters. To date over 118,000 trees have been planted, to reforest our future!