12 Vegan Hacks for everyone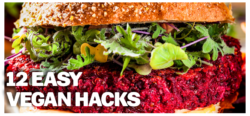 It is commonly thought that healthy, plant-based foods are complicated to cook and exceptionally expensive. This might stem from an idea that we have to buy vegan meat and dairy, processed substitutes, expensive supplements and exotic produce in order to sustain this lifestyle. But here is the catch: while these things might be nice to indulge in occasionally, they are not really necessary to a vegan diet. In fact, if you strip it down to the basics, you will find that a wholefood plant-based lifestyle can actually be affordable, deliciously fun and accessible to most! Here are 12 hacks to cook vegan food that tastes delicious, is kind to your wallet and also to the planet.
First the practical hacks…
Do it yourself
Eating out or buying ready-made vegan foods can quickly take a toll on your monthly food budget. So why not try to prepare your own delicious and affordable meals! How? You may wonder. Read below for more tips …
Embrace wholefoods
Processed foods are usually seen as an easy and quick solution to prep our meals but are often more expensive and less nourishing than wholefoods. Cooking with wholefoods may take a little more organising from you (at first!) but you'll quickly get the knack. A simple tip is to always have these wholefood staples at home: fruits and vegetables, grains, legumes, seeds/nuts.
Eat mostly seasonal and local
Eating local and seasonal food usually tastes better as it is picked at its freshest, will cost less to you and the planet and will support your local economy! Sounds fantastic right? To start your vegan seasonal journey, look out for the fruits and vegetables at your local Better Food store, very often the cheaper the unit price, the more likely they've been grown and picked locally. Or subscribe to a local and organic veg box, there are plenty to choose from!
Buy in bulk
Buying in bulk usually provides much better value for your buck than pre-packaged food. It also provides you with a great opportunity to play around with new pulses without worrying about wastage, as you can choose the exact amounts for your recipes. So look out for the bulk section at your local store (see our Bee Better Refill scheme here), and check the unit price which will tell you the exact cost per pound or litre, as well as helping you compare products.
Look out for the sales sections!
One last 'practical' tip before going delving into some delicious vegan recipe hacks! A great tip to keep your food budget under control is to look out for the good deals. Most food stores (including ours) regularly put products on sale when they're approaching "best before" dates to reduce wastage. This is your chance to stock up on your more expensive or extravagant products! If you are not planning to use them there and then, pop them in the freezer to use later.
Now to the cooking hacks…
Cook with ingredients you enjoy but do leave some space for discovery!
If you've never tried adding nutritional yeast to your cooking, you're missing out on something delicious. Not only nutritional yeast is highly nutritious (full of vitamins, minerals and high-quality protein), it is also known for its cheese-like umami flavour. From salad dressings to gratins, you can put nutritional yeast on everything!
Legumes are your best friends
Legumes are an excellent source of protein and more for vegans. It is always a good idea to have a few spare cans of chickpeas and beans in your pantry. But if you do want to go down the bulk/dried legumes path (and trust me it is worth it) the trick is to prep them well.
First, you want to make sure to soak your legumes in water overnight before attempting to cook them. This ensures a more even cooking and enhances the legumes' health benefits. Then rinse, add fresh water to the cooking pot and you are ready to go! Season when cooked.
One final tip: adding a large strip of dried seaweed (kombu, seaweed spaghettis etc.) to your pot of legumes prior to cooking can reduce the cooking time and the gas-producing properties of the beans.
Make a chickpea water chocolate mousse
Yes, you read it right! Chickpea water – also known as aquafaba (the liquid found in your can of chickpeas) – is a perfect alternative to egg whites. My favourite recipe (because it needs few ingredients) is a simple vegan chocolate mousse. So, next time you make a chickpea curry or your show-stopper hummus, think twice before throwing out that chickpea water! Check out Lazy Cat Kitchen's take on it, you won't regret it!
Make a vegan gravy with your old-looking-back-of-the-fridge veggies
There is nothing more disappointing than a watery, tasteless gravy drizzled on your Sunday roast. So, what if you could use up your old, saggy looking veggies to create a deliciously vegan gravy? This recipe from Riverford's website might just do the trick.
Make a vegan carbonara in 15 minutes with smoked tofu
Simple, quick and so satisfying after a long, cold day. Cut the smoked tofu into large chunks, thinly slice a large onion and crush a couple of garlic cloves. Heat and oil (coconut or olive oil are both great!) a pan, throw in the onion and let it sweat for a few minutes. Add in the smoked tofu chunks and crushed garlic cloves. Here you can also add some smoked paprika to the mix. Fry at medium heat for another 5 minutes.
Once the mixture is nicely golden, reduce heat further and add a good dollop of soya/oat cream to the pan, along with three to four generous spoons of nutritional yeast. Mix it all in and let it simmer on a very low heat for a further 5 minutes. Serve with your pasta of choice and a side of greens. Don't know where to get hold of smoked tofu? Head to our Better Food stores in the fridge section for UK-made tofu brands such as Clearspot organic.
Make a vegan Bolognese with tempeh
Tempeh, like tofu is made of soya beans and is a great meat-alternative for vegetarians and vegans alike. Tempeh has a denser, nuttier flavour than tofu and is thus great ingredient to create hearty dishes such as a vegan Bolognese or chilli con carne. Check out the Minimalist Baker's take on a 1-pot vegan bolognese. Psst…head over here to read our latest blog on Bristol-made tempeh.
Blend frozen bananas to make 'nice cream'
If you haven't heard of this hack before, you're in for a treat. Literally. Get your old, spotty looking bananas, cut them into medium chunks and throw them into the freezer. Then wait for your ice-cream craving to arise and let the frozen banana magic do its thing! Pop the frozen banana chunks into a blender with a bit of liquid (water or alternative mylks) and blend. Once smooth, serve and enjoy! Go wild with this recipe by adding other frozen fruits, spices and toppings to the bananas.
Follow us on Instagram for more simple and delicious vegan recipes!