9 Top Tips to a Sustainable Picnic
Top tips for a sustainable picnic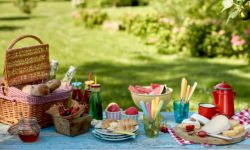 It's the middle of summer and we're hitting peak picnic. Whether it's a trip to the beach or the park, sneaking out between August showers, or even an impromptu snack in the garden, the joys of delicious food in the great outdoors are perhaps now even greater than ever.
But, layer concerns about the planet on top of all the other things we worry about when prepping the perfect picnic, and it's a recipe for a stressful al fresco experience!
Fear not. Read on for our top tips for a sustainable and eco-friendly picnic, and save those worries for whether you packed the sun-cream (or is that brolly!?).
BYOB 'Bring Your Own Bag'
Better Food customers are a savvy bunch, so we're sure you've already got this one in the bag, so to speak. Start your sustainable picnic at the till by bringing a reusable bag when you shop, and keeping one with you means you can always take advantage of an impromptu picnic opportunity. You might want to pack an extra bag to carry away anything you need to recycle back home.
It's all in the prep
It's tempting to go with off-the-shelf snacks that are pre-packaged and easy. But, your wallet and the planet will thank you if you prepare everything you can from scratch at home. Reduce packaging and waste by only preparing what you need. If you're running short of time, bring a container to our deli and we can fill it with organic goodies, without the need for packaging.
Don't be clingy
Cling film is generally not recyclable or reusable, so will only add to the carbon footprint of your picnic. We love the wraps from the Beeswax Wrap Co, which are plastic free, long lasting, but eventually biodegradable. We also have vegan wraps from the same great supplier. Alternatively, try saving old food packaging that can come in handy for your trips out.
Transport food in Kilner jars or containers
If you can't wrap it, your goodies will look great in a lovely jar, but even a reusable container will do the job nicely!
No more plastic cups
If you're planning on cracking open some fizz or wine, don't reach for the plastic. Enamel mugs make a nice, light and unbreakable alternative. But failing that, even your tea mug will do, and will make for a quaint picnic set.
Straws suck
Reusable bamboo straws make a great eco-friendly alternative to plastic, and even paper straws.
Pack the dinner set
With a bit of planning, and careful wrapping in blankets, you can bring your home crockery and cutlery, rather than disposable alternatives. Just don't risk the Wedgewood.
Choose plant-based
Meaty snacks were once a staple of picnics around the country, but a veggie or vegan picnic doesn't have to be a compromise. Vegan sausage rolls and vegan Arancini, anyone!? All available at our deli – but don't forget your container!
Flasks aren't just for tea
You don't need a fancy new cool cup to keep your drink of choice chilled – dig the flask out of the back of the cupboard and it'll do just nicely. Insider tip from our resident gelato aficionado – this also works for ice cream (you heard it here first!).
So, now you've got the important stuff covered, you can sit back, relax and enjoy the wildlife as you dine in the sunshine (we hope).
Fancy 10% OFF your shop? Sign up to our email and get a voucher straight to your inbox.