Fermented Living Supplements
We're big about organic at Better Food, and that extends to our health and bodycare department, too. That's why we're so pleased to stock Living Nutrition's range of fermented living supplements.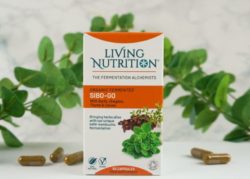 Living Nutrition's in-house nutritionist, Elizabeth Wells, shares with Better Food the journey and the ethos behind the organic-certified range of living supplements. 
Since 2014, Living Nutrition has been dedicated to creating biologically active, fermented supplements using organic whole foods and herbs. Spearheaded by our creative founder, nutritional therapist Graham Botfield, we have pioneered an advanced, extended fermentation technique based on a fusion of kombucha and kefir—two ancient recipes that have nourished people's health for thousands of years. We have perfected this process from our own custom-built laboratory in Dunsfold Park in Surrey, where we are continuing to develop and expand our range.
Living Nutrition grew from modest beginnings, originally launching from Graham's home in Sussex. The product line began with just one single Your Flora product and a herbal range. From 2016, as demand increased, Graham began developing and adding more products. In 2019 Living Nutrition won several awards including Natural and Organic's Best New Herbal Product for Organic Fermented Ashwagandha. In 2021 we introduced the second generation of our practitioner-formulated ranges, including new branding, new plastic-free, eco-friendly packaging, and an even more potent range of fermented products.
At Living Nutrition, we only work with whole foods rather than synthetic isolates or single microbial species because whole plant foods present everything in its raw, natural state. Furthermore, the beauty of working with whole plants is that the fermentation process works in synergy with the plant to enhance all the naturally occurring nutrients, enzymes, and other bioactive compounds. This creates a supplement that is highly bioavailable and well tolerated. For example, our Organic Fermented Kef-Flamex contains naturally higher levels of an important compound called tetrahydrocurcumin than conventional turmeric supplements, without the need for harsh additives such as piperine. Tetrahydrocurcumin is a key compound that has been found in research studies to modulate the inflammatory response and shows exciting clinical potential.
In addition to Organic Fermented single herbs such as Ashwagandha, Red Ginseng and Milk Thistle, we produce Your Flora, a multi-species symbiotic that works in harmony with the individual's own microbiome, helping to rebalance the native microflora, not crowd it out. Each addition is enriched with specific organic herbs to augment the digestion, support microbial diversity, as well as other key benefits. The formulation is based on freshly sprouted organic soya beans, which is nature's perfect superfood for the microbiome. We've even designed one for the whole family to take!
In 2021 we also launched three new additions to our existing lines: Organic Fermented Mushrooms, Organic Fermented Immune and Organic Fermented Cognitive. While functional mushrooms are one of the oldest superfoods on the planet, it can be difficult for the body to access the nutrients within due to the mushroom's impenetrable cell walls. Living Nutrition's special fermentation method converts the active compounds into a highly absorbable, bioavailable state whilst maintaining the natural synergy of the nutrients within. Organic Fermented Immune and Cognitive blends draw on the well-known ability of fermented foods to support a healthy immune function and mindset. Fermentation creates many compounds beneficial for immunity—including beta glucans, friendly microbes, proteins and antioxidants—which communicate with the immune system on a cellular level. Cognitive formulas contain ingredients with renowned therapeutic effects—including key adaptogenic foods and medicinal mushrooms and herbs—with enhanced bioavailability and bioactivity due to fermentation.
As with everything Living Nutrition produces, our new supplement ranges are completely natural and organically certified, free of additives, fillers, excipients and made with the consumer's health needs as our absolute priority. Everything in the capsule is fermented and food-based, even down to the capsule itself! With more products planned for 2022, plus a series of research projects in the pipeline, Living Nutrition is excited to be pioneering fermented nutrition for the betterment of the whole industry.