Food for Thought – Better Food founder's new book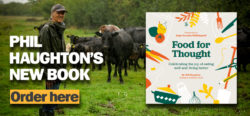 Phil Haughton, Founder of Better Food, opens up about the importance of food, family and community in an uplifting and thought-provoking book – Food For Thought.
Phil Haughton, founder of award-winning organic retailer Better Food, announces the release of his book, Food For Thought, a celebration of life, good food and nature.
Fighting for food justice, supporting the hard-working hands of organic farmers and producers, and advocating for the balance of food and nature – these have all been part of Phil's mission and his passion for over 40 years. These topics could not be more relevant today, with global calls and campaigns to Build Back Better coming to the fore in the wake of the pandemic.
In his first ever book—filled with fascinating stories, tempting recipes and helpful tips—Phil takes us on a journey of good food, from soil to plate.
"The food that we eat and where it comes from is central to the quality of our lives, and lies at the heart of making the world a better place." Quote from Food For Thought's foreword by celebrity chef and broadcaster, Hugh Fearnley-Whittingstall
Recipe exclusive! Try Phil's delicious recipe for minestrone soup here.
Watch our video, where Phil talks about his easy and hearty 'Beef in the Bog' bourguignon dish and download the recipe here.