Free Water Refills across the City!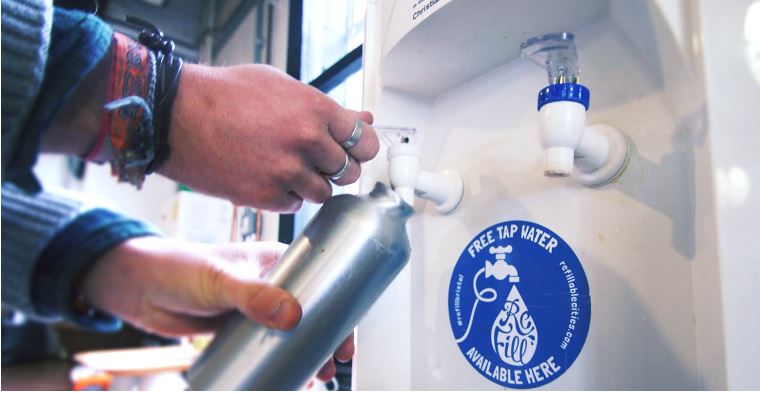 Free refills in store!

This is such a great initiative that we're part of with Refill Bristol that we wanted to share it:
Refill Bristol is fantastic campaign enabling you to fill up your water bottle for free from one of 200 Refill stations across the city!
The aim is to reduce the amount of plastic bottles and bottle tops ending up in our oceans, whilst keeping you healthy, hydrated and saving you money at the same time!
How does it work?
Participating cafes, bars, restaurants, banks, galleries, museums and other businesses display a round, blue sticker in their window, inviting thirsty passers-by to come on in and fill up their bottle – for free.
Better Food is part of this scheme: Each store's café is equipped with the HOUSEWATER bottled water system, which filters the mains supply to provide both still and carbonated water that not only tastes great but also reduces the environmental impact of plastic waste.
As well as refillable glass bottles available in the café, customers are encouraged to use our Refill Stations to refill their own reusable bottles completely free of charge.
Why do it?
As well as the importance of staying hydrated (and saving some pennies!), If you've walked along a beach or river lately you'll probably have noticed all the plastic bottles littering the riverbanks and coastline.
Unfortunately plastic bottles and bottle tops are ending up in the sea and contributing to the global crisis of marine plastic pollution.  Refill Bristol was launched in Summer 2015 to tackle this problem by encouraging Bristollians to refill their single-use plastic bottles for free at hundreds of Refill stations around the city.
When choosing a safe refill bottle to carry with you, chose one that's labelled "BPA free". Bottles containing BPA  can leach oestrogen-like chemicals into the water which can impact on hormonal balance and aggravate symptoms relating to PMS, Menopause, PCOS and many more endocrine related disorders … So choosing a BPA-free reusable bottle, or even better  – a glass bottle –  you'll be avoiding these nasties too.
The goal is simple: to get Bristolians and visitors to Bristol on board with changing the way we use single-use plastics – in this instance, bottled water.
Read more about Refill Bristol here
Reusable Coffee Mugs:
We further supporting the War-On-Waste by encouraging you to bring in your reusable coffee mugs rather than using paper ones: We'll give you 20p off hot drinks every time you bring your cup with you to re-use.
We'd love to get to the point where nothing in our cafes gets thrown away or needs to be recycled…  Please join in and help us!
Tags: Refill Bristol, sustainability, waste reduction, water