Our guide to the tastiest cheese and wine pairings this Christmas

Merry Cheesemas!
When you're a cheese lover, nothing beats a good cheeseboard, and we're truly spoiled to have so many mouth-watering, award-winning cheeses here in the south west. Our carefully selected range in the deli is testament to how much we love a good cheese. Get inspired for a festive cheeseboard full of (jingle) bells and whistles, with our guide to creating a cracker of a cheeseboard…
First up, the cheese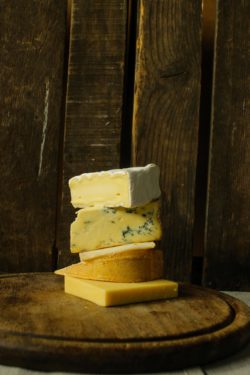 A good rule of thumb is to go for variety. This means a mix of hard and soft cheeses, a range of flavours, textures and milk types (such as cow, goat or sheep's milk). Depending on how enthused you are about cheese, pick around 3 to 5 cheeses. If aesthetics concerns you, odd numbers always look good on the plate.
When picking cheeses, it's nice to start with a fairly 'safe' flavour you're familiar with, such as a cheddar. You can build it up with adding to your range of milk types, so look out for a balance of cow, sheep and goat milk. Cow's milk is versatile and our widest range of flavours. Sheep's milk tends to be quite rich due to the higher fat content, and if you like a tangy cheese, goat's milk is the go-to for that distinctive taste. If you're feeling curious and would like to expand your range even further, we highly rate the nut-based vegan 'chease' from Bath Culture House. We'll give our recommendations below for the perfect cheeseboard but ultimately, pick the ones you like!
Complementary flavours
Did you know you could theme a cheeseboard by season? Along with obvious cheeseboard musts like crackers (we recommend you try the lavosh flatbreads by Step and Stone), and chutneys (yes please, Gingerbeard's Preserves), bring some winter produce to your table. Try slices of blood orange, or serving up brussels sprouts roasted in honey and balsamic vinegar. If sprouts aren't your thing, the honey and balsamic make a nice dipping sauce on its own. At this time of year, there is usually a jar of cranberry sauce in the fridge, so don't forget to bring it out for your cheeseboard too.
Cheese loves nuts, and you'll often find cheeses described as 'nutty' in flavour. This natural flavour affinity means that having nuts alongside your cheeseboard certainly won't be out of place. Get exactly the right amount by visiting our nut section in the refill wall in store.
Wine Pairings
If you're looking forward to picking wine to drink with your cheese course there only three rules you need to know when matching cheese and wine:
1. Not all wine goes with all cheese. (yes, we feel your collective noooooooo!) It would be lovely if we could just keep going with whatever wine we had with dinner, but some cheeses can really spoil some wines. To make the most of both, think about choosing a wine (or wines!) to specifically go with your cheese course.
2. Contrast salty with sweet. Salty cheeses (particularly blues like Stilton and Roquefort) can make the tannins (mouth-puckering, drying sensation from red wines) taste even stronger. Think about wines that are a little sweet (particularly Port and dessert wines) to match salty cheeses – they offer a pleasing contrast. There's a reason why Port and Stilton is a classic!
3. Complement textures. Consider the texture of your cheese and match it to the texture of your wine…For example, if you have a fresh 'crisp' goat's cheese, try pairing it with an equally fresh sauvignon blanc. Or a creamy brie – try a rich chardonnay.
Serving up your cheeseboard
Find a large flat platter, chopping board, or even dinner plates if that's all you have to hand. Cheese is at its best at room temperature, so put the cheese out half an hour to hour before you intend to dive in. If your cheeseboard is being served on a particularly festive day when you've had too many breakfast chocolates (we're not judging), simply cut each cheese in half when you're compiling your cheeseboard – serve one half and save the other in the fridge for later.
A little overwhelmed by choice?
We've picked our favourite five organic cheeses and they're all vegetarian. If you like the sound of them, they do come pre-packed for easy pick up at the deli, or for ordering online with your Christmas food order. Otherwise, feel free to ask for advice at the counter if you want to make your own cheeseboard. We've paired each cheese with a wine that is guaranteed to show it off at its best.
Green's of Glastonbury Cheddar, cow's milk, Glastonbury.
Yes, yes, despite what we said about cheddar being a 'safe' flavour, Green's of Glastonbury Cheddar is no ordinary cheddar. Its full bodied, sweetly nutty, mature flavour gives it a lingering finish that's deliciously satisfying. Since this cheddar is a hard cheese, it'll keep a firm texture.
Pair with: Bodega Piedra Negra Malbec, Argentina.
Mature cheddar is one of the cheeses that can take a nice full red. This rich Malbec, brimming with chocolate, dark plums and cherry, is a delicious match.
Cornish Brie, cow's milk, Cornwall.
Who doesn't love the melt-in-the-mouth, buttery mellowness of brie? Cornish brie is the epitome of this semi-soft cheese and a must for our cheeseboard.
Pair with: Wildsong Pinot Gris, New Zealand.
Pinot Gris (aka Pinot Grigio) produces richer, creamier wines in its spiritual home in Alsace, France. Wildsong take more than a leaning on the style in their Kiwi interpretation. A perfect foil for a Cornish Brie.
Wyfe of Bath, cow's milk, Bath.
The Bath Soft Cheese Co. created Wyfe of Bath inspired by Canterbury Tales, with a deep flavour reminiscent of 'old England'. A truly succulent, creamy and nutty semi-hard cheese.
Pair with: Xixarito Manzanilla Pasada En Rama, Spain.
Feeling daring? What better to match the nutty, creamy Wyfe of Bath, than this stunning (and equally nutty) aged sherry.
Millstone, sheep's milk, Shepton Mallet.
Crafted in Shepton Mallet, our only non-cow's milk cheese in this top five, has also been likened to more familiar Manchego. We love the crumbly texture and mild flavour of Wooton Organic Dairy's Millstone.
Pair with: Bodegas Piqueras Wild Ferment Verdejo, Spain.
Fresh, zippy and lemony, with a bit of richness from oak aging. This is an obvious match (Verdejo comes from Northern Spain) to a Manchego-esque sheep's cheese.
Perl Las, cow's milk, Wales.
In our opinion, no cheeseboard is complete without a blue cheese and we've picked Caws Cenarth's tasty Perl Las from over the border in Wales. Although it's considered a strong cheese, the distinctive blue overtones are quite subtle and creamy.
Pair with: Casal Dos Jordoes Tawny Port, Portugal.
Fully organic certified, this nutty, spicy, fruit cakey port is an amazing contrast to salty, blue Perl Las.