Innovator story: Happy Holistics – natural, organic skincare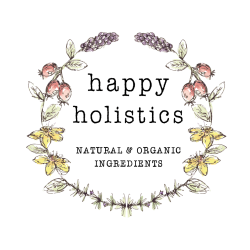 Happy Holistics is among the growing number of innovators in organic skincare offering products that care and restore skin and environment, while respecting all in the supply chain. The company was set up by Kelly, a trained aromatherapist, with a vision of creating truly organic, affordable products, using Fairtrade and sustainable ingredients that have been grown with passion and love for the natural world. Here, she explains what the process has been like, and what's coming next…
What are the highs and lows of being an organic skincare innovator?
I have always loved natural ingredients. From the scent of flowers and herbs to their healing and health properties – they bring me great joy. Over the years it's been great to discover new organic oils and hear how they are grown and processed. Since the beginning, I have always enjoyed the feedback and stories I receive from the people who have used my products – it gives me great pleasure responding to their ideas and suggestions.
It's been a challenge trying to create organic products that use all organic ingredients. The paperwork involved, liaising with suppliers and organic certification bodies, and ensuring compliance and traceability – these are all a time-consuming part of the job. Using eco-friendly compostable packaging was always my aim so in addition to this, I make it my aim to educate customers about cost of ingredients versus posh packaging. There is also the challenge of up scaling!
So what's next for Happy Holistics?
There are a few things I want to do on the business side. I would love to expand the product range and source more eco-friendly packaging. I would also like to run more workshops to help people better understand organic ingredients and sources, and the positive impact these have for growers, the environment and our skin.
Looking at the broader picture, I'd like to bring the importance of organic beauty products into the mainstream, trying to make them affordable and viable for everyone, not just high-end, high cost luxury products. I believe organic should be everyday not a luxury. Organic really begins to make a difference if it is accessible to everyone.