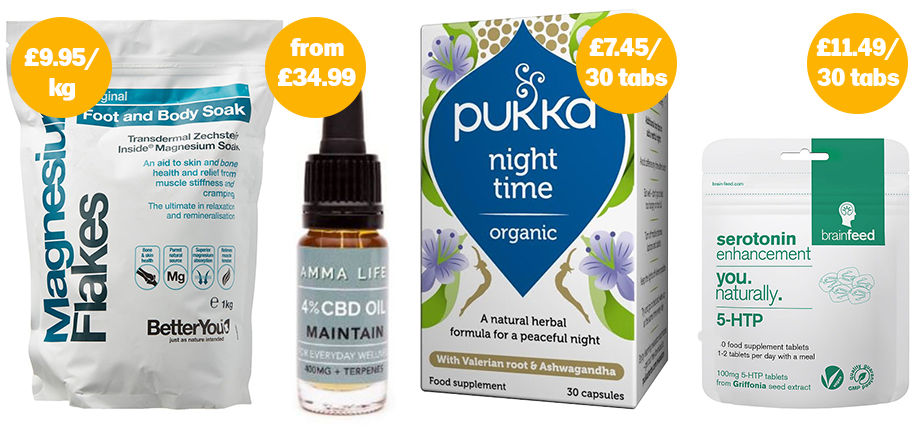 Sometimes we all need a little help nodding off. Sarah Webb, health and bodycare manager at Better Food, makes sure that navigating the options won't keep you awake at night with her top sleep-promoting picks.
(Prices correct 1/2/19)
BetterYou Magnesium Flakes
£9.95 / 1kg
Melting into a warm magnesium-rich bath is a gentle way to get your magnesium fix which, amongst hundreds of other functions in the body, has been shown to aid relaxation and restful sleep. BetterYou source their magnesium chloride from a seam one mile underground in the Netherlands, where it has naturally purified away from man-made pollutants.
Amma Life CBD Oil
From £34.99
CBD, or cannabidiol, is a compound found in Cannabis Sativa and hemp. In interacts with receptors found all over the body that form endocannabinoid system, which has a crucial role in many health-maintaining functions. Anecdotal evidence suggests CBD oil is a great way to enhance sleep. Amma Life food supplements—also available in teas and ointments—are produced from whole plant hemp, grown outdoors in Europe from GMO-free seed, without pesticides or herbicides.
Pukka Night Time capsules
£7.45 / 30 capsules
Produced from the highest organic grade herbs, Pukka's Night Time blend includes valerian and ashwagandha. Prized in Ayurvedic medicine, the clue to ashwagandha's properties is in its botanical name Withania Somnifera, meaning 'sleep-inducing'. Meanwhile valerian's sedative properties and calming effects have been widely appreciated for millennia.
Brainfeed 5-htp
£11.49 / 30 tablets
5-htp is an intermediate in the body's synthesis of serotonin, which plays a vital role in regulating mood, anxiety, appetite and sleep. It also enhances the production of melatonin (the body's sleep hormone) at night. brainfeed 5-htp is extracted from griffonia seed, to create convenient, nutrient-dense tablets.
Read our blog Can't Sleep? for more tips on how to get a restful night's kip.