That's the Spirit: 6 O'clock Gin on adapting to the times
6 O'clock Gin is a craft gin brand distilling strikingly smooth artisan gins in small batches, using traditional skills and only the best natural ingredients. They're owned and operated by the family-run artisan spirit company Bramley & Gage, based in Thornbury on the outskirts of Bristol, and the team have been developing their master distiller expertise for more than 30 years.
We hear from Emily Robinson, Business Development Executive at 6 O'clock Gin. She joined the team in June 2018 to put her long-standing love of gin to good use in her career.
Having been based in the Bristol area for over a decade, we have dedicated lots of time and effort into building a strong network of customers and fans across our region who share our passion for the finer things in life – such as a strikingly smooth gin and tonic at 6pm!
As every year, our summer plans were approaching and we were excited about heading out of the distillery to meet our fellow ginthusiasts at a host of different festivals and events throughout the warmer months. You could almost taste the crisp juniper and fizzy quinine flavours in the glass already – but sadly, it wasn't to be.
When the coronavirus pandemic took hold of the world in mid-March and the pubs, bars and restaurants at the core of our industry closed, we were initially disappointed about our summer plans being scuppered, and concerned about what the future held. Soon though, we realised that our business could adapt to provide an even more vital resource to our community than the gin we usually produce.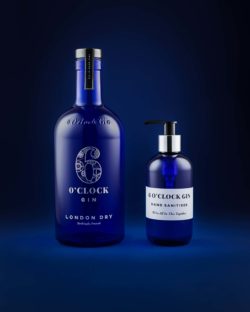 By the end of the same month, after researching the World Health Organisation formulation and rapidly sourcing the ingredients, we were despatching our very own 6 O'clock Gin hand sanitiser across the country to help prevent the spread of COVID-19.
As a family-run business, looking out for those around us has always been a huge part of what we do; we decided that we would go a step further and match the volume of hand sanitiser we sold with a free donation of stock to the NHS, in the hope that our heroes on the front line of the crisis could continue their work safely.
Once word got out about the project, we were inundated with calls and emails, not only from the health and care sectors trying to source hand sanitiser for their work, but from customers looking to make a purchase to enable a donation to be made to those key workers. Retailers, like Better Food, were quick to get involved, wanting to provide vital distribution points for the sanitiser within our community by stocking it in their stores.
The national response to the ongoing pandemic has been truly overwhelming, and it is a real honour to be able to play our part in protecting our community. At the same time, it has been very humbling to feel the support of the community in return; there's a real sense that people want to rally around their beloved independent brands to try and safeguard them from the potentially devastating economic repercussions this pandemic could have.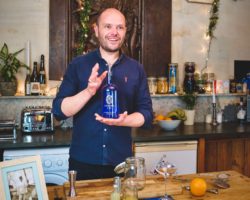 We have still been working non-stop despatching gin orders to our customers and stockists, to provide little moments of contentment in these unusual and uncertain times. Even though we haven't been able to get out and meet our lovely fans in person, we have again adapted our operations and begun a series of Facebook Live masterclasses with one of our gin experts, Tristan.
Every Friday evening at 6pm, we are walking through simple serves and cocktails to provide some inspiration and entertainment, as well as to say thank you for the support of everyone who has bought our gin. We've even hosted our very first 6 O'clock Gin virtual pub quiz, and hope to repeat the experience again soon.
Although we're not out of the woods yet, and we're still a way off life returning to a recognisable state of normal, we keep reminding ourselves that, for every day that passes, we are one step closer to that life, and that our wonderful customers are the ones pushing us ever closer.
Read more about 6 O'clock in our supplier directory