We've Reimagined the Store Loyalty Card to Put Planet First

We're really excited to have launched a loyalty scheme that rewards you for reducing packaging waste every time you shop.
The Bee Better scheme, which will be trialled across our three stores from September, abandons the format of traditional loyalty programmes that reward consumption. Instead, we're aiming to capture your passion for refill shopping, and encourage everyone to explore new ways to avoid single-use packaging.
When you sign up to the scheme, you'll be able to collect a reward stamp every time you refill your own container across an ever-growing range of products, which includes wholefoods, teas and spices, household cleaning products, bath products and more, as well as food and drink from the stores three organic cafés. Twelve stamps will earn our refillers a free hot drink served either in-house, or in a refillable cup.
To further reduce the waste footprint of the scheme, we've teamed up with the Magic Stamp app to deliver the loyalty 'cards'. The app allows you to virtually collect reward stamps, eliminating the need for printed cards.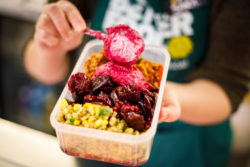 Commenting on the new scheme, our MD Gene Joyner said:
"As a business, we have always strived to make responsible decisions on the packaging we use in store based on what is right for society, rather than the bottom line. The success of our packaging-free range is testament to our brilliant customers who choose to shop in this way.  With the Bee Better scheme, we really hope to show that we can all make a positive impact when we shop, and encourage more customers to come on that sustainable journey with us. The scheme aims to treat both customers and the planet kindly, and we hope to influence other retailers to trial more responsible loyalty schemes such as this."
We've made sure that everyone stays safe while they refill, sanitising touch points and refill stations hourly, as well as making it easy for our customers to sanitise their hands around the store.
Earlier this year, we were proud to be the first café in the UK to pioneer the #ContactlessCoffee initiative, a campaign from City to Sea encouraging cafés to continue to safely accept reusable coffee cups during the Coronavirus lockdown. Through the Bee Better scheme, we're hoping to deepen the impact already made by this scheme, and through the sale of our packaging free ranges. In the first six months of 2020 alone, we estimate that you, our wonderful customers, saved in excess of 150,000 pieces of pre-pack packaging across our three stores.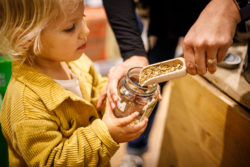 How does it work?
Simple, earn a stamp every time you refill in your own reusable container. Fill the card and we'll treat you to a free coffee, for treating our planet kindly.
For each reusable you bring to refill in store, collect a stamp
For example, come in and refill oats, bring your own egg box, refill washing up liquid and buy a takeaway coffee in your reusable cup and you'll earn 4 stamps.
Fill the card with 12 stamps and we'll treat you to a free coffee (or other hot drink)
What qualifies for a stamp?
Refill in your own reusable container from the qualifying range below to earn a stamp:
Packaging free refill wall, packaging free frozen items, loose teas and spices, eggs, household refills, health & bodycare refills, takeaway deli meals, BYO cup takeaway drinks.
How do I sign up?
1. Download the Magic Stamp app to your phone
2. Search for Better Food and add the Bee Better stamp card
3. Show the card when paying for any refills in store
4. Collect a stamp for each refill and you're on your way to a free organic coffee
You can download the Better Food 'Bee Better' card now via Magic Stamp, available on Apple and Android app stores.