Clive's: Plant based Pie-oneers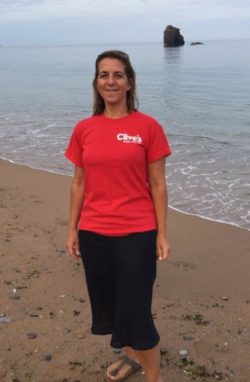 Esther Pearson is joint Managing Director at Clive's Pies, an organic, 100% plant-based bakery based in the beautiful south Devon countryside. Leading the way in plant-based pie making for over 30 years, now Clive's entire range of pies, tarts and nut roast is vegan. Here, Esther explains how they made the transition, and tells us about the other values that set their pies apart.
At Clive's we believe in the positivity of plant-based eating and the benefit it brings to planet-welfare. We put every ounce of our energy (and we have lots of it!) into making delicious plant-based foods, at our beautiful little bakery in Devon. We do it because it makes people happy, it makes us happy and it makes the planet happy. We put as much love into each and every pie now as we did on day one, over 30 years ago.
There's lots of things that sets us apart from other pie-makers – truly tremendous taste being one of them; but what's absolutely fundamental to our food is the way we do things. We treat our planet's resources with care. Whether it's sourcing amazing organic veggies from our long-standing supplier Riverford (who are just 10 minutes down the road from us), or packing everything up in biodegradable and recyclable cardboard boxes – we think about every step of the process. There will always be faster and cheaper ways of doing things, but we believe in doing things the right way. And the right way for us is fresh, sustainable, natural and always delicious!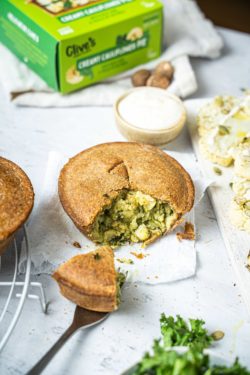 We made some changes recently to make sure we are practising everything we preach. After being vegetarian for decades, this year we decided to go 100% vegan because it fits with our ethos and who we are. That meant tweaking our only vegetarian recipe, so that absolutely everything we make is powered purely by plants. Now our range includes a mouth-watering selection of vegan pies, tarts and nut roast, as well as great gluten free options too. From comforting home favourites like Creamy Mushroom and Chestnut & Bean to more exotic flavours like our Arabian Chickpea and Sag Aloo, all our food has clean labelling and wholesome ingredients which are super popular with Better Food customers.
It's not only being vegan that we are proud of here at Clive's, we are also Soil Association Organic certified, and have been organic since we started. For us, organic certification is about so much more than having no pesticides on our vegetables; it's about being able to trace our ingredients back to where they were grown, having a strong relationship with our suppliers and treating people fairly.
Whilst it's business as usual at the bakery right now, we have exciting times ahead. For the first time in our history, we're moving home to our very own purpose-built bakery overlooking the River Dart. From here we'll be able to make more pies than ever before, without compromising on quality or care, of course. We're hoping to make the move this autumn, and from there will be no stopping us: our pie-oneering of planty goodness will continue to grow and grow. We're also really excited to soon share a brand-new recipe that we've been beavering away on in the kitchen, so keep your eyes peeled for that one!
We hope you've enjoyed this little insight into life at Clive's. To all our wonderfully loyal customers we'd like to stay thank you for coming with us on the incredible journey we've had so far, and for those of you yet to try a Clive's Pie – what are you waiting for? Deliciousness awaits!
Read more about Clive's in our supplier directory