We're always looking for suppliers who not only help us cut plastic out of the supply chain, but those that reduce the need for single-use packaging altogether. With 'reduce, reuse, recycle' in mind, we get pretty excited when we find a product that takes us a step closer to a 'closed-loop' system. In our latest supplier blog, we hear from the innovative team at Fill Refill Co on how they're closing the loop (and what that means!).
We were so happy when the folks at Better Food asked us to write something for their blog this Plastic Free July. Fill Refill Co is all about reducing and reusing, and whilst recycling might be the best thing to do in some cases, the focus at Fill is on closing loops, wherever we can.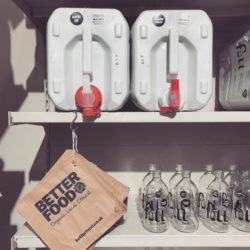 Fill stockists are a really big part of the Fill family, and as soon as we met the team at Better Food, we could see that they understood what we were trying to do. Back then we were supplying 200L bulk returnables to a few (brave) independent zero-waste stores around the UK.
Better Food were looking for products in bulk – direct from the makers – and we wanted to work with them on an antidote to the rows and rows of single-use plastic bottles on supermarket shelves.
Refilling from bulk returnable 200L drums goes against the way that most conventional supermarkets have always chosen to supply cleaning and laundry products – or any products, really. We're so glad to see that this is starting to change. Better still, we've seen that the folks who visit shops like Better Food get the idea too… all we have to do is wheel the drums into position. Dave, our amazing delivery driver, does that!
You can't miss our 200L drums in the stores. Each one will fill four hundred 500ml refills! These returnable bad boys are perfect for closed-loop supply at scale, eliminating a lot of single-use plastic waste from the chain over time – take a look at our handy illustration below to see how it all works. We pick them up second hand from a big soft drink manufacturer. We wash them out and stencil them by hand with environmentally friendly industrial (EFI) ink, so they're instantly recognisable! When they're empty, we get a message to pick them up and take them back to our factory in Northamptonshire, where we wash them, refill them and send them out on the road again.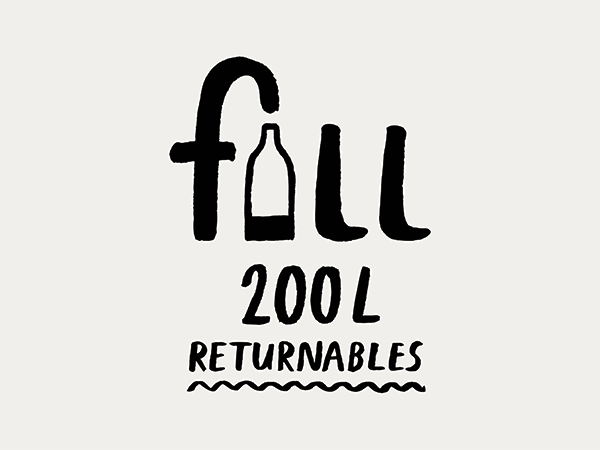 In Better Food stores you can refill: Laundry Liquid, Fabric Conditioner, Wash Up and Hand Soap into FILL screen-printed glass refill bottles. Just take your empty bottles with you and #fillcleanrepeat!
We're a small, independent, family-run company. We formulate and make all the Fill products in a time-worn, mid-century factory in Northamptonshire, with real chemists combining biodegradable ingredients to create simple, modern and effective eco cleaning and laundry products. No dyes. No harsh chemicals. No plastic bottles. Less waste. We set out to create the type of straightforward eco products that we wanted to use, in glass bottles that look cool, so they won't get thrown away.
You'll probably notice we don't look like most other cleaning products. We've worked closely with super talented illustrator, Eleonor Marton, to create our refillable glass bottles, which are screen-printed in England. They're all dishwasher safe, and we've tested them over and over and over.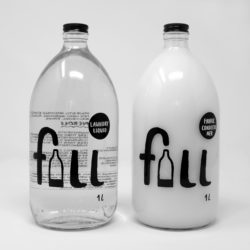 We're always trying to make everything we do better – we're small enough to be able to make things happen quickly, and we're definitely not frightened of change. Nothing changes if nothing changes, after all. We've got loads of cool stuff coming later this year, including a bunch of new products to follow the Fill Fig Leaf Hand Soap in new amber screen-printed glass bottles.
Fill Refill Co products are always available unscented or '+fragrance'. Better Food chooses to take many of them unscented, and that's really cool. Our unscented laundry liquid and fabric conditioner are both registered with allergy UK. The entire range is registered with the Vegan Trademark. Fill is also a member of 1% for the Planet.
It's really hard to pick a favourite product, but we're really proud of our unscented laundry liquid for a whole bunch of reasons. First up, it's plant-based and really works. It's vegan, certified plastic-free, non-bio and approved by AllergyUK. Take your empty bottles with you and #fillcleanrepeat.
Make sure to follow @fill_co for new products, cool projects, good records and the cat.
Read more about Fill in our supplier directory.