Organic September Heroes: Organic Herb Trading

We've chosen Organic Herb Trading – the UK's leading supplier of organic herbs, spices and botanicals – as one of our Organic September Heroes, because they're such a brilliant example of how organic standards and values can have a positive impact across the whole supply chain. From the fields right next to their offices, to the global suppliers they support to grow organic, their way of doing business is benefitting habitats and people world-over. At Better Food, we're lucky enough to source our incredible range of loose-leaf, packaging-free teas from Organic Herb Trading.
Read more from Laura Tucker, Marketing Manager at Organic Herb Trading.
Nestled amongst rolling hills in the beautiful Somerset countryside, you'll find Organic Herb Trading – we are incredibly lucky to be based in such stunning surroundings, and those of us who have been more absent from the office in recent months have really missed the wonderful views!
Founded in 1982, and now the UK's leading supplier of organic herbs, spices and botanicals, our offices and manufacturing facility sit alongside a two-acre herb field where we practise what we preach and grow biodynamically certified medicinal and culinary herbs, which thrive in this lovely part of the country.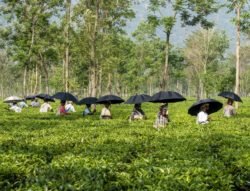 The volume of herbs we grow in our herb field now represents a small proportion of what we sell, but the herb field is really important to us because it reinforces our values, and reminds us of some of the practical challenges that our suppliers face on a day-to-day basis. And of course, herbs are at their very best – both medicinally and in terms of taste – when they are fresh.
The majority of our business involves sourcing and supply of an incredible array of 500 organically certified herbs, spices, botanicals, superfoods, powders, extracts, oils, fats, butters, hydrosols, flavours, waxes, seaweeds, and teas. We work extremely hard to build strong and longstanding direct-trade relationships with our suppliers around the world, and often provide producers with practical and financial support they might need to grow the highest quality products. We are extremely grateful for the fantastic products our suppliers grow, and their commitment to the organic movement.
We are all partial to a great cup of tea here at Organic Herb Trading, and a large part of our business has been dedicated to developing a significant range of high-quality organic tea and herbal raw ingredient products from around the world. From the classic Camellia Sinensis teas, to individual herbal ingredients and best-loved blends, we source and supply a wide range. Each of them has been carefully selected and developed by our team, who between them have many years of tea experience. A number of us live in Bristol and have been supporters of Better Food for many years, so it makes us really proud to see some of our favourite tea products available to buy in store, and to work with a business that so clearly and actively shares our values and ethics.