Supporting Square Food Foundation's #SquareMeals Project
UPDATE: We'd like to say a huge thank you to everyone who helped us reach our target in just a few days! You donated more than £1000, and we'll be adding another £1000 to the pot, meaning the total including Gift Aid stands at a whopping £2,464.
When we heard what our friends at Square Food Foundation were doing to support families in need during the current situation, we wanted to lend a hand. You can help too – for every £1 you donate, we'll match your donation!
What are Square Food Foundation doing?
The fabulous team at Square Food didn't waste a second in responding to the needs of their local community, right here in Bristol. Since the early days of the crisis, they've been busy preparing hundreds of meals every day for children and their families at the Oasis Academy Connaught who would ordinarily receive free school meals.
Why is Square Food Foundation's work so important right now?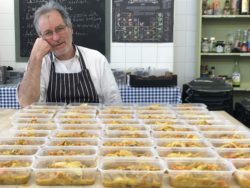 Bristol has 20,000 children living in poverty and 11,000 children eligible for free school meals. This project aims to reduce the number of families that are likely to experience food poverty as a result of the coronavirus outbreak. As the situation constantly develops, Square Food are working hard to provide a daily meal for those in the community in greatest need.
Who are Square Food Foundation?
Ordinarily we work with the amazing, hard-working team at Square Food to deliver our Streets to Kitchen project – teaching cookery and food service skills to people experiencing homelessness. While that project is paused, we want to make sure that Square Food can continue to deliver their important services elsewhere in the community.
How can you help?
Our Local Giving page is now closed – your generosity helped us reach our target in just few days. You can still donate to Square Food Foundation's #SquareMeals project – all donations are currently being doubled by a generous donor, so there's no better time.