What to buy at Better Food: Organic, cold-pressed chocolate in a range of flavours.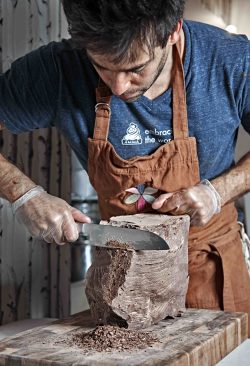 Bristol-made Adam's Chocolate is crafted by the man himself to bring the remarkable power of raw plant-based food to his cacao-loving followers in the most delicious way possible. Recovering from a serious back injury, Adam was quickly convinced that plants could be the key to health and happiness, so set about creating a chocolate that delights the senses and nourishes the body. Adam's Chocolate is cold-pressed—ensuring nothing is lost from the raw cacao including micro-nutrients, texture, aroma and flavour—and uses yacon syrup for natural sweetness, the lowest registering sugar on the Glycaemic Index (GI).
Mission and values: To change the way the world thinks about chocolate, but providing chocolate that 'treats you better'.
Location: Bristol, BS16 (2.5 miles to Better Food)
Certifications: Soil Association Organic; Vegan Society approved
We love them because… Local, organic and oh-so delicious—we can't find anything not to love about Adam's extraordinary chocolate. As well as being packed with the goodness of cold-pressed cacao, it's also great for those with allergies and intolerances as it's free from gluten, dairy, refined sugars, soy and artificial additives and sweeteners. We think the taste alone is enough to entice any chocolate lover.
< Back to Products & Suppliers