What to buy at Better Food: Handmade cherrystone thermal pillows
Drawing on Swiss tradition and childhood memories, Bea—founder of warmlii—has created a range of beautifully handcrafted heated pillows, ideal for alleviating aches and pains. The pillows are made using ethically sourced materials that have minimal impact on the environment, including cherrystones (a by-product from the German sour cherry harvest) and 100% organic cotton. Even the packaging is made using 100% biodegradable UK-grown corn starch. When heated, the pillows give off the gentle smell of warm cherry pie—the ultimate comfort gift!
Mission and values: Using ethically sourced materials and by-products, Beatrice founded warmlii to revive a Swiss tradition that naturally alleviates aches and pains.
Location Bristol, BS6 (0.3 miles to Better Food)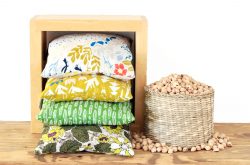 We love them because… We first got the chance to try out warmlii pillows when Beatrice was working in our St. Werburghs store café, and we feel lucky to have been enjoying their soothing effects ever since! The care Beatrice takes in choosing her fabrics, and in hand-crafting each pillow, made warmlii an instant hit with our staff and customers.
< Back to Products & Suppliers