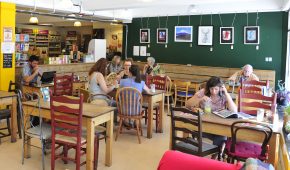 ST. WERBURGHS
St. Werburghs Café
Our friendly café in St. Werburghs is a regular hang-out for locals, shoppers and families with children alike Everyone feels at home here! We serve a choice of popular organic home-cooked meals and snacks, cakes, teas and great coffee in a relaxed environment. We also serve  freshly made organic juices in all our cafés. Made to order, they are super fresh, totally organic and completely raw. Stop by for  brunch and try the impressive menu of hearty, organic breakfasts; Full English if you're into it, Vegan, Vegetarian or check out the amazing Avocado Guacamole on Hobbs Quern Toast amongst others!
Please note that each day, 30 minutes prior to closing, we will only serve food and drink to take away.
Opening Hours
Mon -Fri:

8am - 7pm

Sat:

8am - 5pm

Sun:

10am - 3.30pm

Easter Day:

Closed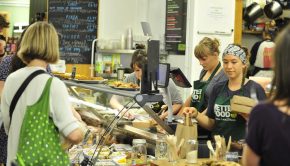 Whiteladies Road (Clifton)
Located on the vibrant Whiteladies Road, our in-store deli has a great selection of tasty treats for eat-in or take-away. Early birds looking for breakfast can pick up some healthy granola, and in the evening there is a healthy stew of the day on offer. You'll find an array of organic, home-cooked light bites & soup, fresh juices, teas and great coffee. Cakes, brownies, flapjacks and biscuits are freshly made daily, and there's always something gluten-free on offer. The deli is also a treasure trove for local and artisan cheese, olives, local cooked meats, falafels, bhajis, marinated wonders and so much more.
Opening Hours
Mon - Fri:

8am - 8pm

Sat:

9am - 7pm

Sun:

10am - 6pm

Easter Sunday:

Closed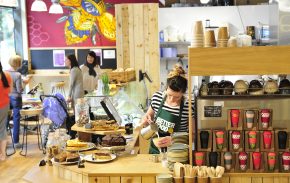 Wapping Wharf
The organic café in this in our new, central-Bristol store has sunny outdoor seating and a superb organic brunch offering served until 4pm each day (3pm on Sundays) Healthy food fans will be delighted with choices such as the "Organic and Cashew Granola with Vanilla Yoghurt and Fruit" and the "Avocado Guacamole on Hobbs Quern Toast, Leaves and Tamari Pumpkin Seeds". Or go for something more hearty.. a Full English or Vegetarian or Vegan equivalent. You'll also discover tasty sharing platters and sweet treats as well fresh organic juices, teas and coffees. Stop by and pick up a health working lunch: We have a range of organic sandwiches and salads to-go; all freshly-made by hand each morning.
Opening Hours
Mon - Thurs :

8am - 6pm

Fri - Sat:

8am - 8pm

Sun:

10am - 4pm

Easter Sunday:

Closed