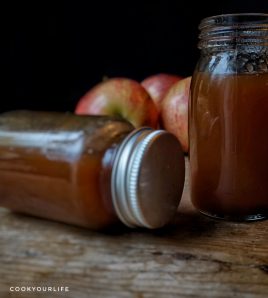 Here we are, in November… That can only mean nights in front of the fireplace, hot chocolate and food that feeds the heart. Autumn, the season where the colours of summer change into earthy browns and reds… and scents drift into spice and citrus. This season, filled with the aroma of cinnamon, cardamon, pumpkin, honey, ginger, is a time for dreams and creativity. At this time of year I get creative with apples as they are at their best right; found in abundance it is the perfect chance to buy apples in bulk and cook up a batch of chutney or apple syrup.
Preserving foods has been done for thousands of years to deal with times of hardship – when we are low on funds or low on food during the hungry gap. As we shift to living more locally and become more frugal to lighten our impact on this planet, preserving will have to become part of lives. Preserving is not only rewarding; the process can be a lot of fun too!
My apple syrup is the perfect accompaniment to your breakfast, dolloped on top of porridge or spread on toast. It can also substitute eggs in baking. Apples are the queens of the fruits; full of fibre and packed with antioxidants and Vitamin C that we need at this time of year. The old adage eating an apple a day keeps the doctor away could have more truth to it than we realise! Eaten as part of a healthy diet and lifestyle, they can help reduce cardiovascular problems, improve our immune system and overall digestion.
APPLE SYRUP
Ingredients:
– 2kg apples
– The juice of an apple
– Juice of half a lemon
– 80g organic brown sugar** (optional: I prefer the natural sweetness from the apple)
– 1 cinnamon root
Instructions:
1. In a big casserole dish cut all the apples in half.
2. Cook, with a little water, for about 30 minutes or until the apples become mushy. Stir regularly.
3. Strain the apple puree and leave to cool for 4-6 hours.
4. Add all the strained liquid into a pan with cinnamon, lemon and sugar.
5. Reduce to a low heat, stirring frequently to avoid the pan from burning.
6. Pour the solution into a jar and leave in the fridge for up to 6 months.
7. Enjoy!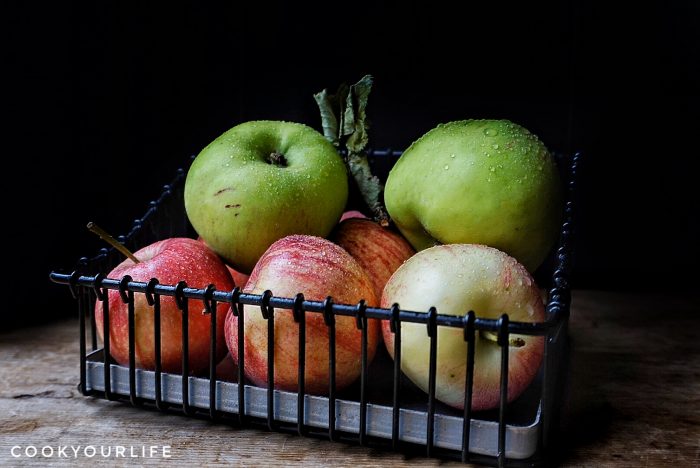 *Melanie R. Gonzalez is the creative force behind CookYourLife, She makes original recipes that taste great, look beautiful and have incredible health benefits. She cooks all around the world, leading workshops, working as a yoga retreat chef, writing her first book and sharing her passion as a food stylist & blogger.
< Back to Recipes