CAULIFLOWER AND COURGETTE CURRY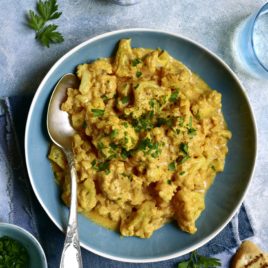 We're looking at simple, easy recipes this month to help you out as you settle back into your routine. Adapt this recipe to your needs – whether that be a convenient meal to come back from work to – or something for the whole family to tuck into!
Totally vegan, and bulking it up means less cooking throughout the week!
VEGAN CAULIFLOWER AND COURGETTE CURRY
Serves: 4
Ingredients
1 tbsp olive oil
1 tsp mustard seeds
2 onions, diced
1 tbsp garam masala
1 tbsp cumin
1 tsp mixed spice
1 tsp turmeric powder
3 cloves of garlic, roughly chopped
1 chilli, diced with seeds removed
1 head of cauliflower, chopped into 1 cm chunks
1 courgette, chopped into 1cm rounds
2x tins of 400g chopped tomatoes
400ml of coconut milk
A squeeze of maple syrup
Seasoning
1 lemon, juiced
To serve:
Fresh coriander
Method
Heat a large saucepan on a medium flame. Add the olive oil and mustard seeds and heat until the mustard seeds begin to pop. Next, add the onion, spices, garlic and chilli, frying for 5 mins.
Pop in the cauliflower and courgette chunks. Give everything a good stir and allow the vegetables to catch slightly so they absorb the flavours. Cook for a further 5 mins. Follow this with everything except the coriander and stir thoroughly to combine. Pop a lid over the top and reduce the heat to a simmer. Leave the curry for 30-40 mins (or pop into a pressure or slow cooker for programmed time). If cooking in a saucepan, give the curry a really good stir half way through.
Serve up or save the curry back for meals, along with fresh wholegrain rice, naan, a dollop of yoghurt and a scattering of yummy coriander.
< Back to Recipes